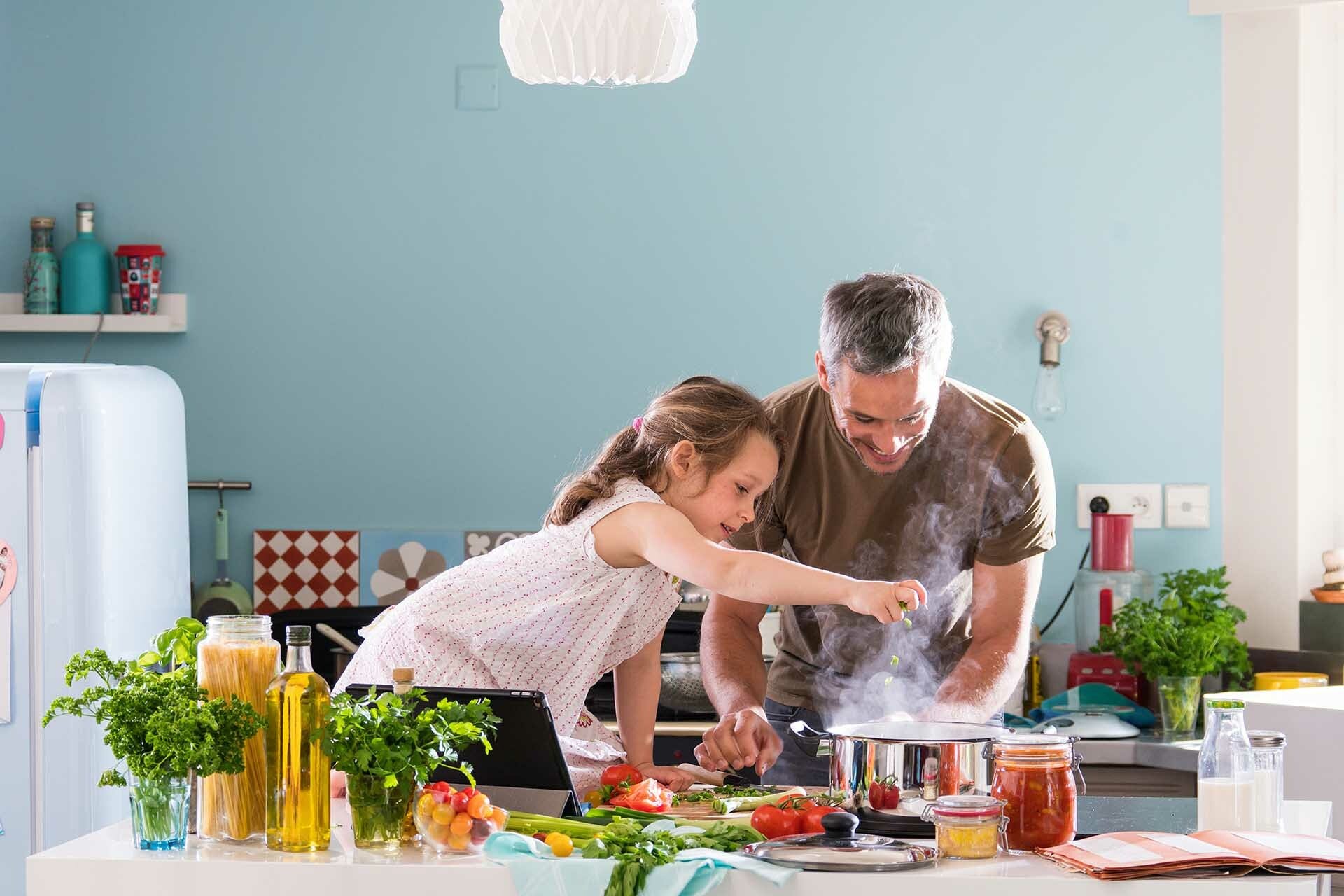 Cooking At Home With Kids
Good nutrition provides our bodies with the fundamental building blocks of life. Therefore, establishing healthy eating habits in our children from the very beginning is one of the most important life lessons you can gift your child with. What better way to teach your children about food and healthy eating than by teaching them the art of cooking?
Cooking is a great way to bond with your children. Learning to follow a recipe and measuring ingredients may help to build maths and literacy skills and can help prepare children's brains for more complex tasks. They can learn about the different food groups and where ingredients come from, experiment with different flavours as their pallets develop and learn about cultural diversity within cooking and traditional recipes handed down through the generations.
What about nutrition?
A report by the Australian institute of Health and Welfare in 2020 revealed that 25% of Australian Children and adolescence are overweight or obese, which in turn can lead to poorer mental and physical health outcomes and higher health care costs (1). Nutrition Australia recommends children eat 4-5 serves of veg and legumes per day and 1-2 serves of fruit (2). With childhood obesity rates in Australia on the rise and many children not consuming the recommended daily intake of macro and micronutrients, it seems that our kids are eating too much of the wrong things. So how do we teach children to make healthy food choices and about the importance of a healthy diet?
Here are few important tips:
Firstly, be a great role model. When children see their parents preparing and eating healthy food on a daily basis, it becomes ingrained in them, and they tend to mimic this behaviour. The same goes for eating a variety of foods. If they see you eating a variety of different foods, they will be more likely to expand their pallet and become more adventurous in their food choices. This can take time with the fussy eater, but the payoff is there if you persist with exposing them to diversity and choice. Often exposing the fussy eater to different foods, even if they refuse to try them can reinforce the idea that new and different foods are not scary. Start with the basics.
Teaching them about being safe in the kitchen is a must. Safety around utensils and appliances is a move you will never regret.
Secondly be the teacher. Teaching kids about where foods come from is an important life lesson. Similarly, educating them as to which foods are healthy choices and how food helps to fuel their little bodies so they can get the most out of their adventurous days is important. Interaction is key from doing the food shopping with them to preparing the meals.
Make it fun and be prepared to get messy. The key to getting kids involved in anything is to make it fun! If it gets a little messy, so be it. That being said, weeknights at 6:45pm when you've just arrived home from work and need to get something on the table is probably not the best time to involve the kids. Weekends are a great time to get the kids in the kitchen, that extra time up your sleeve can be a blessing!
Suit them up in their very own apron to make them feel the part and choose an age appropriate recipe to keep them engaged in the process. I've learned that younger children generally prefer to eat finger food and they love to use their hands and get messy, so here are a few of my favourites.
Vegie lentil bites – oven baked:
These are packed with fibre and the leftovers can be put in the lunch boxes for the next day.
You will need:
1 cup of pre-soaked red lentils well drained (soak one cup of red lentils in clean water over night and drain thoroughly)
1 medium carrot grated
1 small zucchini grated
½ cup of frozen peas and corn
1 spring onion finely chopped
1 cup of grated cheddar and parmesan cheese mixed together
½ cup of wholemeal breadcrumbs
Pinch of salt and pepper
1 heaped tsp of mixed Italian dried herbs
Method:
Preheat a fan forced oven at 200C.
Combine all ingredients in the food processor and blitz until combined.
Take 1tbs of mixture and roll into a ball and place on a baking tray covered in non-stick baking paper.
Flatten with your hand into a round patty. Cook for 20-25minutes until golden brown, turning over after 15 minutes.
Serve with your favourite yoghurt dip, tzatziki, chutney or tomato sauce and a side salad.
Banana Pops:
You will need:
4 bananas
8 paddle pop sticks
1 block of dark 70% cocoa chocolate
1 Tbs coconut oil
Crushed nuts, shredded and toasted coconut, crushed corn flakes,
Method:
Cut your bananas in half.
Insert a paddle pop stick into the bottom of each banana.
Place on a baking tray and put the bananas in the freezer for at least 1 hour, until frozen.
Break the block of dark chocolate into a bowl and melt in the microwave stopping every 30 seconds to stir until melted and smooth. Stir in the coconut oil.
Get the bananas out of the freezer and dip into the melted chocolate. Roll the chocolate covered bananas in your topping of choice and place back on the baking paper and back into the freezer.
These are great on a hot day as an ice-cream replacement and they are delicious! Enjoy.
References:
Australian Institute of Health and Welfare
Nutrition Australia. "Australian Dietary Guidelines: Recommended Daily Intakes" (Online) https://nutritionaustralia.org... : Australian Institute of Health and Welfare, 2020.(online)
https://aifs.gov.au/cfca/bibliography/nutrition