OUR HISTORY
THE STORY OF SWISSE
Throughout our incredible journey, we've stayed true to our mission to inspire health and happiness around the world.
---
It's hard to believe that the Swisse story started over 50 years ago in a little bakery in Collingwood, Australia. From those humble beginnings, we've evolved into a global business, bringing premium wellness solutions to millions of people in over 12 countries.
And what a journey it's been. Along the way, we've maintained an unwavering search to find world-class ingredients from across the globe, continued our evolution to stay at the forefront of innovation, and pledged a never-changing commitment to support and lead change within the wellness industry. We've proudly done all this and more, so we can continue to create what sits at the very heart of Swisse: premium products that support wellbeing and health.
SWISSE: WELLNESS THROUGH THE YEARS
A lot has happened over the last 50 years. From a little shop to a global organisation, Swisse's personal evolution is an incredible journey that spans half a century.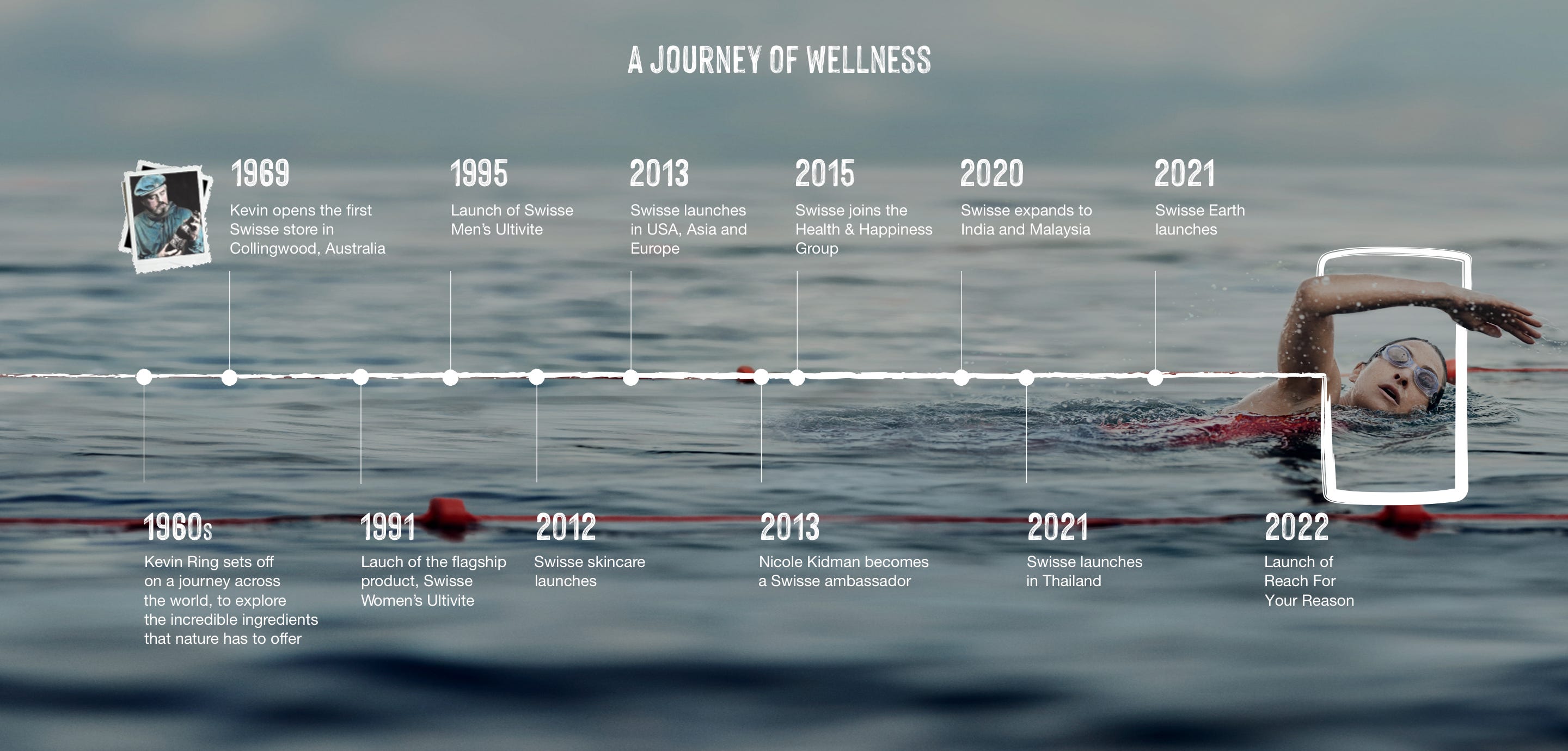 WHO IS KEVIN RING?
In the late 1960s, our founder Kevin Ring set off to explore the world in search of nutrient-rich ingredients from nature. His journey led him to the furthest corners of the globe and inspired him to bring his innovative findings back home. The result? Swisse, born in Australia in 1969.
Kevin Ring's desire to help millions of people around the world become healthier and happier is still at the very heart of Swisse's DNA. We have spent years searching the world to source premium ingredients and develop innovative concepts, resulting in over 200 products that now make up the Swisse range. And just like Kevin, we are inspired daily to support others in their journeys towards health and happiness.
50 YEARS OF WELLNESS
Celebrate 50 years of wellness with Swisse Managing Director, Nick Mann. This short video captures the highlights of Swisse's ongoing commitment to wellness - for all Australians, our communities, our Swisse team members, our partners, and our planet.