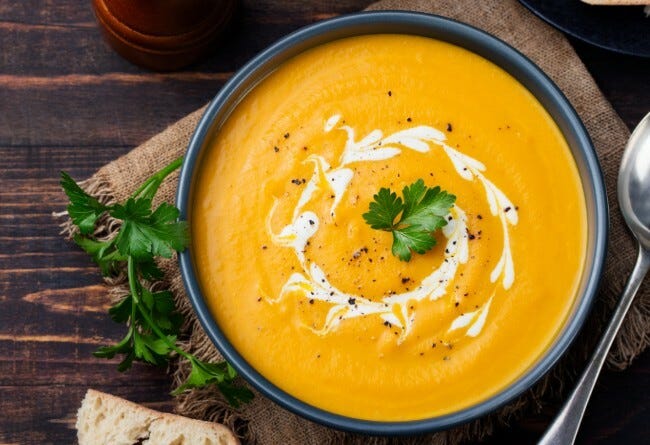 Winter Wellness: The Comfort Food Edition
Miso Hungry Udon Soup
INGREDIENTS:
1 pack of organic udon

1 carrot (thinly sliced)

1 bunch of bokchoy

1 chicken breast fillet (sliced 1/2cm thick)

1 clove garlic (chopped)

Half an onion (chopped)

Teaspoon of olive oil oil (specify what type of oil here)

750ml of vegetable stock (reduced salt)

3 teaspoons of organic miso paste

Handful of enoki mushrooms

1 chilli (finely sliced)

1/2 cup of spring onions (finely chopped)

pinch of salt

pinch of pepper
METHOD:
In a pot, add oil, onion and garlic and fry until onion softens. Add chicken, a pinch of salt and pepper, and cook for 5 minutes. Add in vegetable stock, stir through miso paste and simmer for 3 minutes. Add in carrots, boychoy and enoki mushrooms and simmer for a further minute.

In a bowl, place the cooked udon noodles (follow instructions on pack). Pour the soup over the noodles and garnish with chilli and spring onion.

Serve immediately and enjoy.
Tip: Leave the chicken out for a delicious vegetarian udon soup. You can also substitute the udon noodles with soba (buckwheat) noodles to make this dish gluten-free.
Serves 2
Roasted Carrot and Pumpkin Soup
INGREDIENTS:
2 carrots

Half a pumpkin

2 sprigs of fresh rosemary

4-5 cloves of garlic

1 onion

700ml of vegetable stock

2 tbsp of olive oil

pinch of salt

pinch of pepper
METHOD:
Preheat oven at 160 degrees. Place baking paper on a tray. Cut up carrot and pumpkin rougly into 3cm x 3cm pieces. Chop onions into wedges of 8 and roughly chop up the garlic and rosemary.

Place the vegetables onto the tray in one even layer. Drizzle olive oil and sprinkle the rosemary, salt and pepper over the vegetables. Cook in oven for 45-50 minutes.

In a pot, add the vegetable stock and the oven-cooked vegetables. Bring to the boil and simmer for 10 minutes.

Using a hand blender, blitz the soup until smooth.

To serve, add a small dollop of greek yoghurt.
Serves 2
Turkey Cottage Pies
INGREDIENTS:
1kg of turkey mince

2 cloves of garlic (finely chopped/minced)

1 tbsp olive oil oil (type of oil here)

1 onion

3 tbsp of tomato paste

375 ml of chicken stock or vegetable stock

1 cup peas

2 carrots (small cubes)

3 stalks of celery (small cubes)

2 sweet potatoes (peeled and cut into pieces)

salt

pepper
METHOD:
Preheat oven at 170 degrees.

In a large pan/pot, add oil, garlic, onion, celery and carrot and fry off until fragrant. Add turkey mince and cook for 5 minutes, breaking up the mince. Add the tomato paste, pinch of salt, pinch of pepper and then add the stock. Bring to the boil and simmer for 20 minutes, stirring every few minutes. Add peas and salt and pepper to taste.

In a separate pot, boil water and add sweet potato. Boil until potatoes are soft. Strain the potatoes and mash until smooth, add a pinch of salt and mix well.

Once the turkey mixture has reduced to a thick paste-like texture, pour it into 4 small ceramic ramekins. Spoon a layer (about 2 cm thick) of the mashed sweet potato.

Bake in oven for 25 minutes or until sweet potato starts to crisp up.
Serves 4.
Tip: Use beef instead on turkey (or 500g of each) for a richer, more meaty flavour.