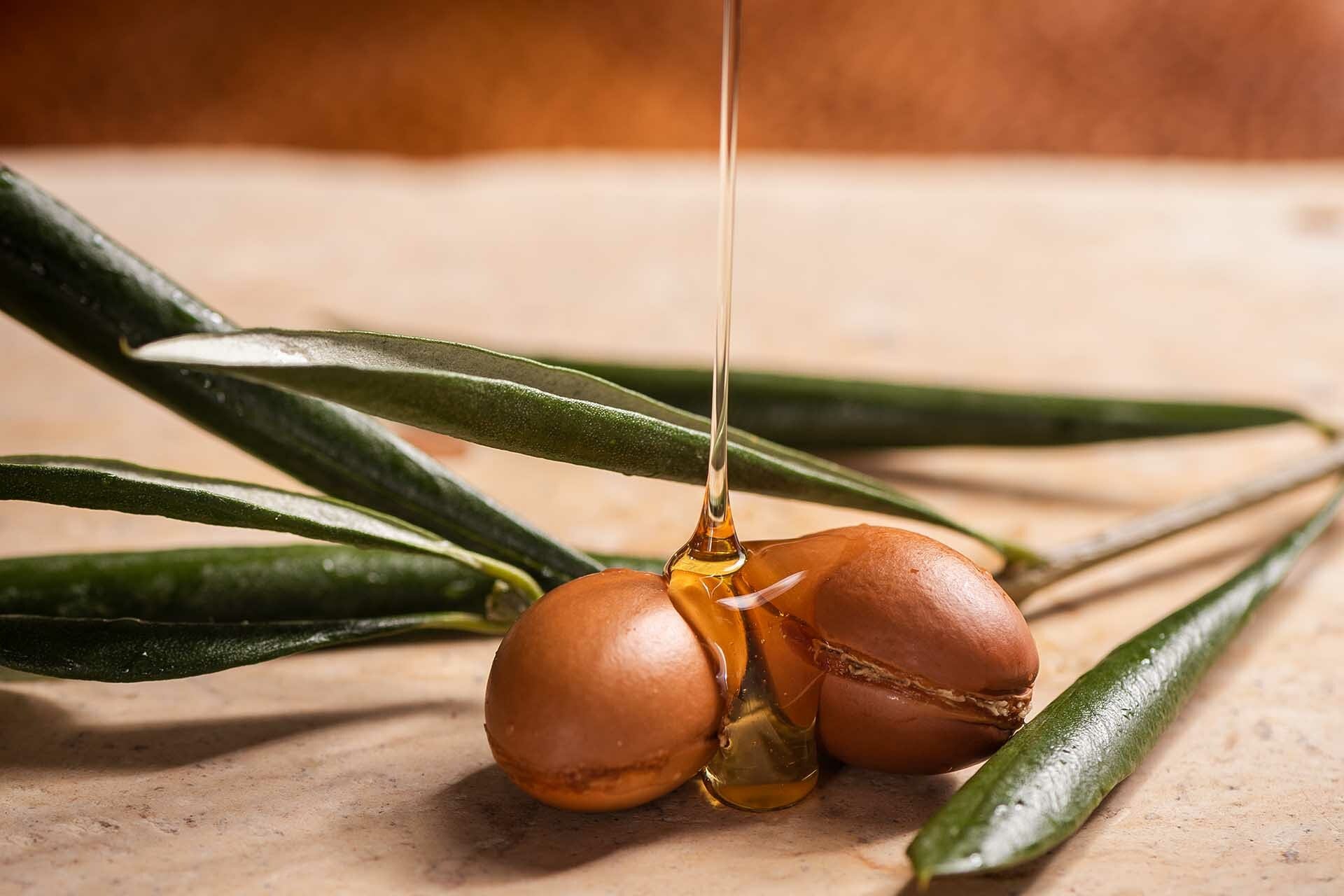 Why You Need To Add Argan Oil Into Your Skincare Routine
For centuries, Moroccan women have held the secret to soft, glowing skin — argan oil! While you may have heard of Moroccan argan oil in relation to haircare, it's only really just started to hit the mainstream in the skincare world. In this article, we give you the lowdown on why argan oil needs to be on your beauty radar, including its many benefits for Healthy Beautiful skin complexion.
What Is Argan Oil?
Argan oil is a plant oil made from the kernels from the argan tree (Argania Spinosa). It's native to Morocco, where the oil is often used to dip in bread for breakfast or drizzled on other meals. It has also been used in Moroccan tribes for centuries for its strong skincare benefits.
Argan oil is a highly sustainable form of oil due to how it is produced. To extract the kernel from the argan tree, the fruit is dried in the open air before the flesh is removed. Instead of being processed by a machine, the kernels are then extracted by hand from the hard shell, then ground in a stone grinder. It's then hand-kneaded and cold-pressed into an oil. It takes one local Berber woman three days to make just a litre of oil, which makes it a very valuable commodity. In 1998, the Argan Forest was even declared a UNESCO protected biosphere to encourage sustainable use.
What are the benefits of argan oil?
It's not hard to see why argan oil is so fiercely protected. It's chock-full of nutrients that are great for the hair, skin and body. Firstly, it's packed with fatty acids, including Oleic and Linoleic acids. They improve the skin's moisture barriers to help keep it looking plump and hydrated. Argan oil is also a rich source of Vitamin E, an antioxidant essential for healthy looking skin and hair.
Beautiful ways to use argan oil
Argan oil is incredibly versatile as a natural beauty ingredient, and you can use it on various parts of your body. These include:
Use it as a hair mask
Argan oil has become a popular ingredient in haircare in recent years, thanks to its nourishing antioxidants and essential fatty acids. It can be worked through the hair as an overnight or leave-in treatment to reduce frizz and make your locks soft and shiny! Some people also use argan oil as a scalp treatment, as it's known to reduce dryness and irritation.
Apply it to your nails
If your nails have been looking a little worse for wear lately (perhaps after using acrylic or gel nails), argan oil can help bring them back to life! You can apply it to dry, cracked cuticles and to strengthen your nails.
Put it on your skin
From using it as a cleanser or moisturiser to priming your skin with it, there are so many ways you can use argan oil for skincare. But if you're still feeling a bit hesitant about putting oil on your face, we've delved into the many skincare benefits below.
What are the benefits of argan oil for skin?
It's extremely moisturising
You'd be hard-pressed to find a skincare ingredient that's more soothing and hydrating than argan oil! As mentioned, this skin superfood is high in omega fatty acids, vitamin E, and linoleic acids, which all moisturise the skin without being too rich and heavy. This means, it absorbs quickly and doesn't clog the pores.
It can prevent breakouts
Argan oil can help keep acne at bay, according to a study published in Dermatology Today. "Say what? How can putting oil on my face make my skin less oily?" you may be wondering. Yep, it sounds crazy, but often people break out because their skin barrier is damaged — and the argan oil helps protect this. Not only that, but the vitamin E can help soothe the skin.
It can help prevent signs of premature ageing
There's a good reason the women in Morocco look so youthful — you see, by loading the skin's surface with moisture, it helps to prevent dry skin from cracking. It's also rich in antioxidants like vitamin E, which can protect the skin from free radicals we get from environmental exposure. This can help prevent the signs of premature ageing.
When is the best time to use argan oil in a skincare routine?
One of the best things about argan oil is how versatile it is — you can really use it at any time of day, on any skin type. However, for best results, you may want to use it as part of your nightly skin routine. The reason being, it can be excellent for rehydrating the skin after you've used water or oil-based skincare products. Plus, argan oil works best on slightly damp skin, so it is great for after you've just taken off your makeup. By leaving argan oil on overnight you can maximise the benefits while you sleep. The result? Luminous, 'I woke up like this' skin!
How to use argan oil in your skincare routine
With argan oil becoming more readily available, it's never been easier to use it on your skin! In fact, thanks to Swisse's Renew range, you can incorporate it into your existing routine without even having to add any additional products.
Swisse Skincare Argan Youthful Facial Oil
If you're keen to get that overall youthful glow with argan oil, check out the Swisse Skincare Argan Youthful Facial Oil. It features certified organic argan oil which is scientifically proven to be rich in antioxidant compounds such as vitamin E, ferulic acid and omegas 6 and 9, to protect the skin from environmental damage and prevent premature ageing. Suitable for all skin types, it provides gentle hydration for day or night.
Swisse Skincare Argan Revitalising Eye Cream
For those looking to focus on revitalising the eye area, the Swisse Skincare Argan Revitalising Eye Cream is a must-try. This ultra-hydrating formula replenishes and refines the delicate under-eye area to prevent signs of premature ageing for a more youthful and rested appearance. All thanks to the benefits of argan — as well as some other skin sidekicks like squalene, grapeseed oil, caffeine and guarana extract.
References:
https://www.theguardian.com/sustainable-business/2015/apr/28/argan-oil-beauty-anti-ageing-loreal-lush-berber
https://www.mdedge.com/dermatology/article/115388/aesthetic-dermatology/update-argan-oil
https://www.unido.org/news/value-added-argan-oil-increasing-womens-independence-rural-morocco
https://www.healthline.com/health/argan-oil-for-hair-growth