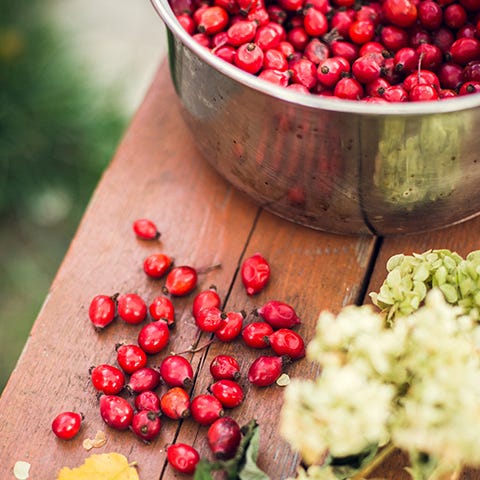 Why We're Loving Rose Hip Oil
Roses are red, violets are blue, your skin is important, so look after it already.
Ok, so we never professed to be poets, but the benefits of rosehip oil are causing us to wax lyrical right now. Once only found on your grandma's dressing table, this nutrient-packed ingredient is experiencing a long-overdue renaissance and we're all going rosehip crazy.
Rosa Canina Fruit, to give it its botanical name, is extracted from the "hips" of the rose (see what's happening here?). Hips are the small fruit seeds that sit behind the flower and are left over once the rose has blossomed and lost its petals. People all over the world have long recognised rosehip oil's benefits, with early evidence of it dating as far back as the Ancient Egyptians, who mainly used it for healing purposes.
In modern times, it's less used for healing dog bites (Romans) or muscle cramps (Native Americans), and is more recognised for its skin benefits, thanks to its rich blend of essentially fatty acids, vitamins and antioxidants.
For the love of roses
And it's no exaggeration to say that it's bursting with skin-loving nutrients. It's a natural source of vitamin E and also contains essential fatty acids specifically known for improving overall skin condition for soft, supple skin. Finally, it's packed full of vitamin C, a skin brightening antioxidant that helps improve the appearance of skin tone and pigmentation.
Here at Swisse, we're in the midst of a deep love affair with rosehip oil. So much so, that we've just launched an exciting new product, Swisse Rosewater Balancing Mist Toner with organic rosehip, a refreshing facial mist that leaves skin feeling soothed and hydrated. It joins our rosehip suite, which also includes Swisse Rose Hip Antioxidant Facial Oil and Swisse Rose Hip Nourishing Cream Moisturiser.
So, make rosehip a staple on your dressing table and enjoy the benefits of this skin-loving oil.