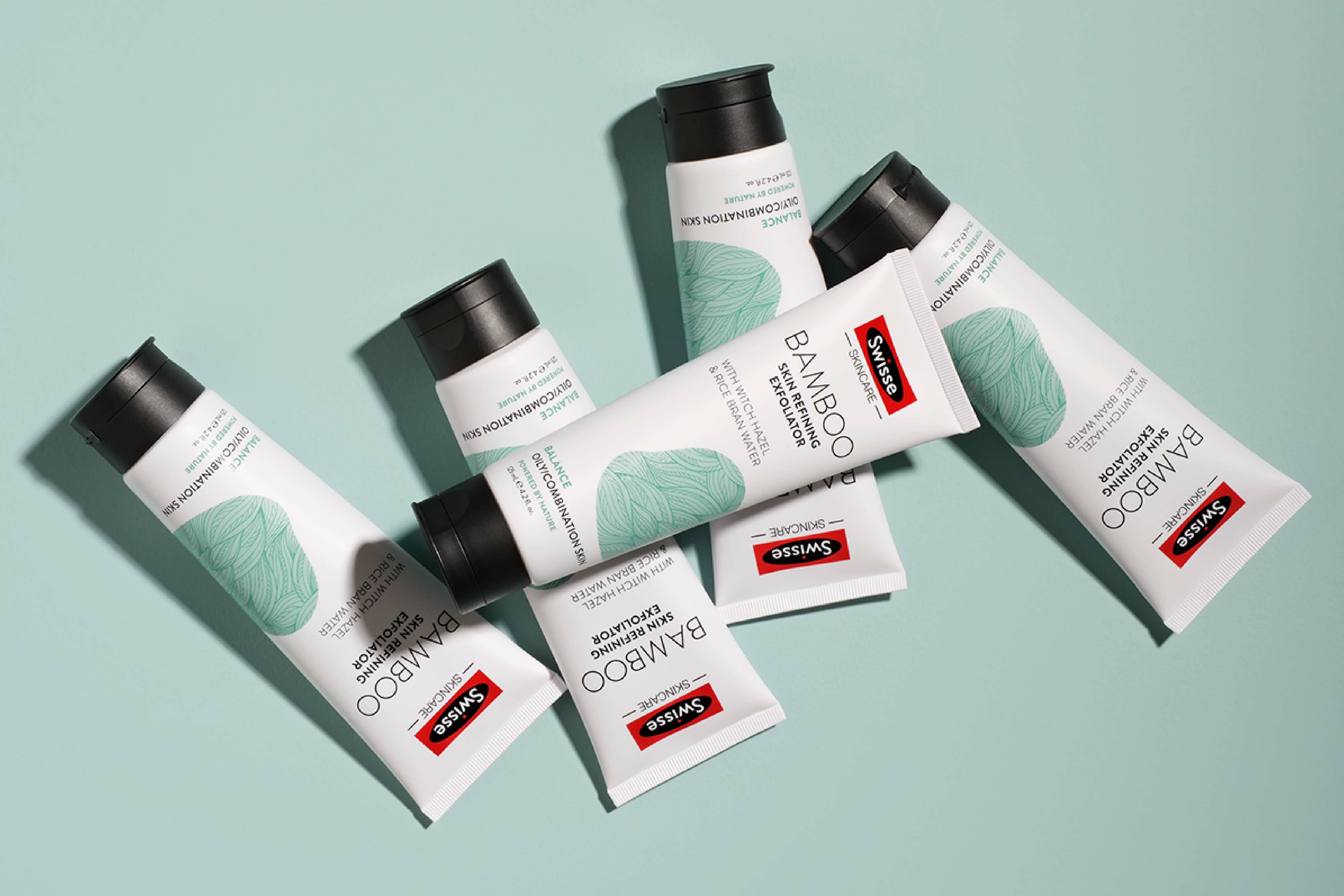 Why Do We Need To Exfoliate?
Exfoliation is our skin's way of getting out with the old and in with the new.
Exfoliating is the process of removing dead skin cells from the surface of the skin, known as the epidermis.1 Our skin goes through a natural exfoliation process once a month, where our skin cells regenerate. Unfortunately, not all dead skin cells shed. Natural exfoliation slows down as the skin ages, leaving us with un-shed dead skin cells on the epidermis.2 Un-shed skin cells on the epidermis can block up skin follicles and lead to excess oil production, dry, rough, dull and blemished skin.
Why exfoliate?
Regular exfoliation can help prevent clogged pores, reducing the development of breakouts. Exfoliation helps make way for a radiant and softened complexion, leaving our skin looking oh-so-smooth. Exfoliation should be part of everyone's skincare routine, especially those with blemish-prone skin.
Our go-tos?
Bamboo stem powder is a naturally-derived exfoliant that helps polish the skin, gently remove dead cell build up and leave the skin smooth, without the use of harsh chemicals. You'll find Bamboo stem powder in the Swisse Bamboo Skin Refining Exfoliator along with Rice Bran water to hydrate the skin, for a soft and smooth complexion.
To support men's skin, we have formulated the Swisse Deep Face Scrub for Men with Walnut shell powder as it's a naturally-derived exfoliant that helps polish the skin, gently remove dead skin cell build up and leave the skin smooth and cleansed. As men have larger pores than women, their susceptibility to breakouts is higher.1 Using a more abrasive exfoliant helps men to achieve a feeling of soft and smooth skin.
How to exfoliate?
Firstly, don't go overboard, as over-exfoliating can leave the skin dry and irritated. Gently massage a small amount of exfoliator onto wet skin in a circular motion for 30 seconds, and then rinse thoroughly with warm water. Exfoliation should occur as part of a skincare routine one to two times a week, depending on skin type.
What to do after exfoliation?
After exfoliating, make sure to moisturise for a soft and smooth finish.
For normal skin types, the Swisse Manuka Honey Glow Boosting Moisturiser is a supercharged formula that plumps and hydrates the skin for a supple and radiant complexion. The buzz around manuka honey in skincare is real; it's been proven to draw moisture to the surface, improving overall appearance and radiance.
For men, follow up with the Swisse Daily Face Moisturiser for Men; a fast-absorbing and non-greasy lotion with Glycerine, Cocoa Seed Butter and Niacinamide to hydrate and replenish the skin. Niacinamide is an excellent ingredient to look out for in moisturisers, as it can help improve the skin's moisture barrier, reduce the appearance of dark spots and minimise oil production.3.4.5.6
Body exfoliation
Exfoliation of the body is just as essential as exfoliation of the face. The skin on the body accumulates dead skin cells that should be regenerated.
Follow full-body exfoliation with moisturiser to achieve smooth skin all over. Raw, cold-pressed hemp seed oil is a rich source of omega-3 and omega-6 essential fatty acids that makes for a great full-body moisturiser. The Swisse Hemp Seed Hydrating Body Moisturiser delivers full-body moisture, leaving the skin smooth and soft.
References:
Fuchs, E., Raghavan, S. (2002) Getting under the skin of epidermal morphogenesis. Nat Rev Genet 3, 199–209. https://doi.org/10.1038/nrg758
Desmond J. Tobin (2017). Introduction to skin aging, Journal of Tissue Viability. 26, 1, 37-46
Rahrovan, S., et al., (2018) International Journal of Women's Dermatology. 'Male versus female skin: 'What dermatologists and cosmeticians should know.'
Chen, 2014
Crowther, 2008
Bains, 2018