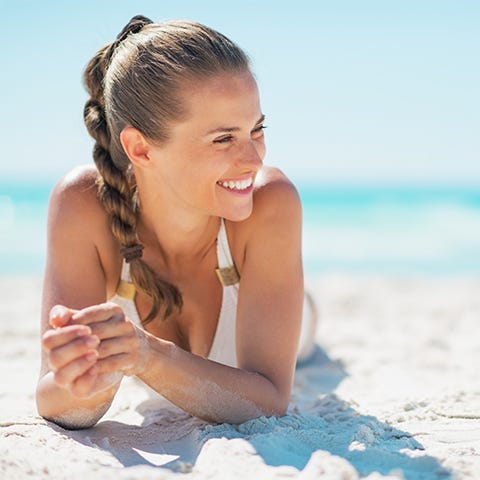 Summer-Proof Your Skin In Five Easy Steps
The days are getting longer and the weather is getting warmer, summer is definitely now in sight. However, a sad remnant of the cooler months may be our skin. It's not surprising that winter and spring can impact our skin – from the cold wind and rain, to the changeable spring weather. Luckily, there are some simple ways that you can help your skin shake off its dullness, so it's ready for the warm summer days.
1) Drink lots of water
It sounds obvious but, when we're not surrounded by summer heat, we forget to drink enough water. Spending time in and out of heated environments, as well as powering your way through an early morning workout to get beach-bod ready, can be dehydrating. Apart from our water intake, consider water-based activities, such as a sauna with a cold shower and/or ice bath, while the weather is still cool.
2) Experiment with face oils
Face oils are great for your skin all year round but especially during cooler weather when your skin is needing the most attention. They are an effective way of rejuvenating your skin's moisture. Massage some face oil into your skin, and then follow up with a good quality face moisturiser. Choose products that are made with natural ingredients that support skin health, such as the Swisse Rose Hip Antioxidant Facial Oil, followed by Swisse Rose Hip Nourishing Cream Moisturiser.
3) Eat for better skin
Feed your skin with food says Swisse nutritionist Sherree Banh. She suggests eating meals filled with butternut squash, mango, sweet potatoes and carrots for healthy skin, nails, hair and eyes. Combine these with dark leafy greens, mushrooms, cabbage, and tomatoes for an even bigger nutrition hit – they are all great sources of zinc and help to boost our immune systems.
4) Moisturise your body
It's easy to forget that the skin on your body also needs moisturising. So, to get it looking fresh and smooth for summer, first avoid using soap which can dry out your skin. Follow that with a nourishing moisturiser that is designed for your body and made from natural ingredients, such as Swisse Argan Oil Body Cream. It uses organic Argan oil to protect and promote soft skin.
5) Try out a body polish
Having spent the last few months undercover, it makes sense that our skin needs a little help to shed its old skin cells and get summer ready. Choosing a body polish that is made from natural exfoliant products will ensure that your skin is fit and fresh ready for the warmer months. Massage the polish into wet skin in a circular motion, before rinsing off. Aim to do this two times a week for glowing summer-ready skin.