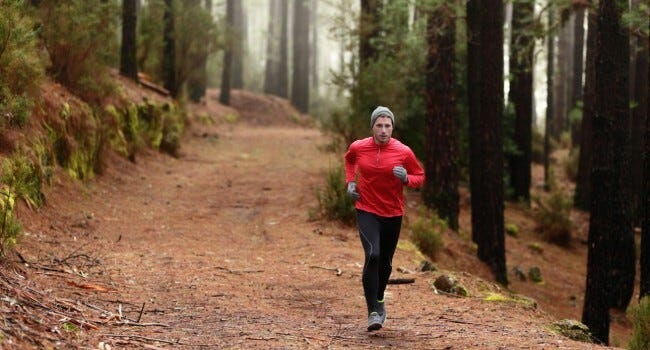 Exercise is good for you, right? Well, it's good for building muscle, strengthening your cardiovascular system and keeping your bones strong. When it comes to your immune system, though, it's surprisingly a different story. Let's just say exercise and the immune system have a somewhat tricky relationship.
How does exercise affect the immune system?
Intense exercise can place your immune system under stress, which can impact immune system function. Combine that with a higher prevalence of infection-spreading germs during the winter months, which can lead to time spent under the doona rather than pumping iron.
When exercising, the physical exertion makes your body produce stress hormones[1]. However, there are some steps that you can take to alleviate this, such as eating a carbohydrate recovery snack after a workout to help reverse the stress hormone response more quickly[2]. It also pays to consider the best exercise for immune system health and whether you can modify your routine to account for this. Longer term, you might want to look at building a stronger immune system to combat infection, so that you can keep exercising to achieve your physical goals.
Our dietary tips for an exercise-filled, sniffle-free winter are:
Get your greens
Eat plenty of fruit and vegetables for their antioxidants, vitamins and minerals. Vegetables, particularly uncooked, contain vitamin C, such as tomatoes, capsicum and broccoli, to name a few. Vitamin C has been shown to help support immune health. Two pieces of fruit and five servings of vegetables per day are recommended as a minimum.
Get going with glutamine
Glutamine has an important function in immune health and levels can be depleted after periods of prolonged training[3]. Supplementing your glutamine reserves after a workout may lend a helping hand.
Think zinc
Zinc is an important mineral with many enzymatic reactions in the body. It helps support a healthy immune system, helps the body to metabolise proteins and assists with minor healing[4]. Eating foods containing zinc such as meat, seafood, nuts and legumes regularly will keep your dietary intake up.
Ironman
One nutrient that is important for supporting both the immune system and exercise is iron. Not just necessary for carrying oxygen around our body as part of red blood cells, iron also supports the body's growth and production of immune cells[5], while iron depletion has been shown to impact athletic performance[6]. Iron is plentiful in red meat, well absorbed although in lesser amounts from seafood, in white meats, legumes and green leafy vegetables.
Pull the protein punch
Adequate protein is needed for cellular growth and repair and immune cell formation. It is recommended to consume approximately one gram of protein per kilogram of body weight, depending on your exercise goals[7].
Keeping up with the carbohydrates
Carbohydrate foods help maintain energy and cause a release of insulin when eaten post exercise, which can help reduce the stress hormone levels produced during exercise[2]. Choose unrefined carbohydrates – fruit or wholegrain bread, brown rice, legumes or dairy provide much more bang for your buck than a bag of lollies. A smoothie with some fruit, yoghurt and protein powder could do the trick.
Know your H2O
Keeping well hydrated is last but not least. Our body is around 70% water, so maintaining the equilibrium of water with electrolytes in the blood is vital. As a rule of thumb, urine should be the colour of straw in general[8]. Even 2% dehydration can disrupt cognitive function, concentration and decision making[9]. Aim to drink at least two litres of water per day. If you're exercising, drink water before, during and after exercise.
What type of exercise is best for the immune system?
Research shows that the best type of exercise to boost the immune system is moderate-intensity exercise[8]. For optimal immune-boosting benefits, aim for 60 minutes or less daily or almost daily, to strengthen your immune and metabolic systems[10].
Should you exercise when sick?
This largely depends on your symptoms. If you're experiencing 'above the neck' symptoms (such as a runny nose or sore throat), then it should be fine to get in some movement. The trick is to keep it light – think walking or yoga – rather than putting your body through a high-intensity workout when it's already under stress trying to fight off an infection[11].
If you have muscle aches, fever, or stomach symptoms, it's generally better to wait until you're back in form before getting active[12].
References:
Hill EE, Zack E, Battaglini C, Viru M, Viru A, Hackney AC. Exercise and circulating cortisol levels: the intensity threshold effect. J Endocrinol Invest. 2008;31(7):587-591. doi:10.1007/BF03345606
Whittaker J, Harris M. Low-carbohydrate diets and men's cortisol and testosterone: Systematic review and meta-analysis [published correction appears in Nutr Health. 2022 Dec;28(4):783]. Nutr Health. 2022;28(4):543-554. doi:10.1177/02601060221083079
Walsh NP, Blannin AK, Robson PJ, Gleeson M. Glutamine, exercise and immune function. Links and possible mechanisms. Sports Med. 1998;26(3):177-191. doi:10.2165/00007256-199826030-00004
Harvard School of Public Health. The Nutrition Source: Zinc https://www.hsph.harvard.edu/nutritionsource/zinc/ Sourced 24 August 2023
Harvard School of Public Health. The Nutrition Source: Nutrition and Immunity. https://www.hsph.harvard.edu/nutritionsource/nutrition-and-immunity/ Sourced 4 August 2023
Sports Dietitians Australia. Iron Depletion. https://www.sportsdietitians.com.au/factsheets/diets-intolerances/iron-depletion/ Sourced 4 August 2023
Harvard Medical School. How much protein do you need every day? https://www.health.harvard.edu/blog/how-much-protein-do-you-need-every-day-201506188096 22 June 2023
MedlinePlus. Bethesda (MD): National Library of Medicine (US). Urine - abnormal color. https://medlineplus.gov/ency/article/003139.htm Sourced 4 August 2023
Riebl SK, Davy BM. The Hydration Equation: Update on Water Balance and Cognitive Performance. ACSMs Health Fit J. 2013;17(6):21-28. doi:10.1249/FIT.0b013e3182a9570f
Zheng, Qishi & Cui, Guangying & Chen, Jianing & Gao, Hainv & Wei, Yingfeng & Uede, Toshimitsu & Chen, Zhi & Diao, Hongyan. (2015). Regular Exercise Enhances the Immune Response Against Microbial Antigens Through Up-Regulation of Toll-like Receptor Signaling Pathways. Cellular Physiology and Biochemistry. 37. 735-746. 10.1159/000430391.
Nieman DC, Wentz LM. The compelling link between physical activity and the body's defense system. J Sport Health Sci. 2019;8(3):201-217. doi:10.1016/j.jshs.2018.09.009
The University of Queensland. School of Human Movement and Nutrition Sciences. What the health: Should I exercise if I'm sick? https://hmns.uq.edu.au/article/2019/07/what-health-should-i-exercise-if-i%E2%80%99m-sick Published 18 July 2019