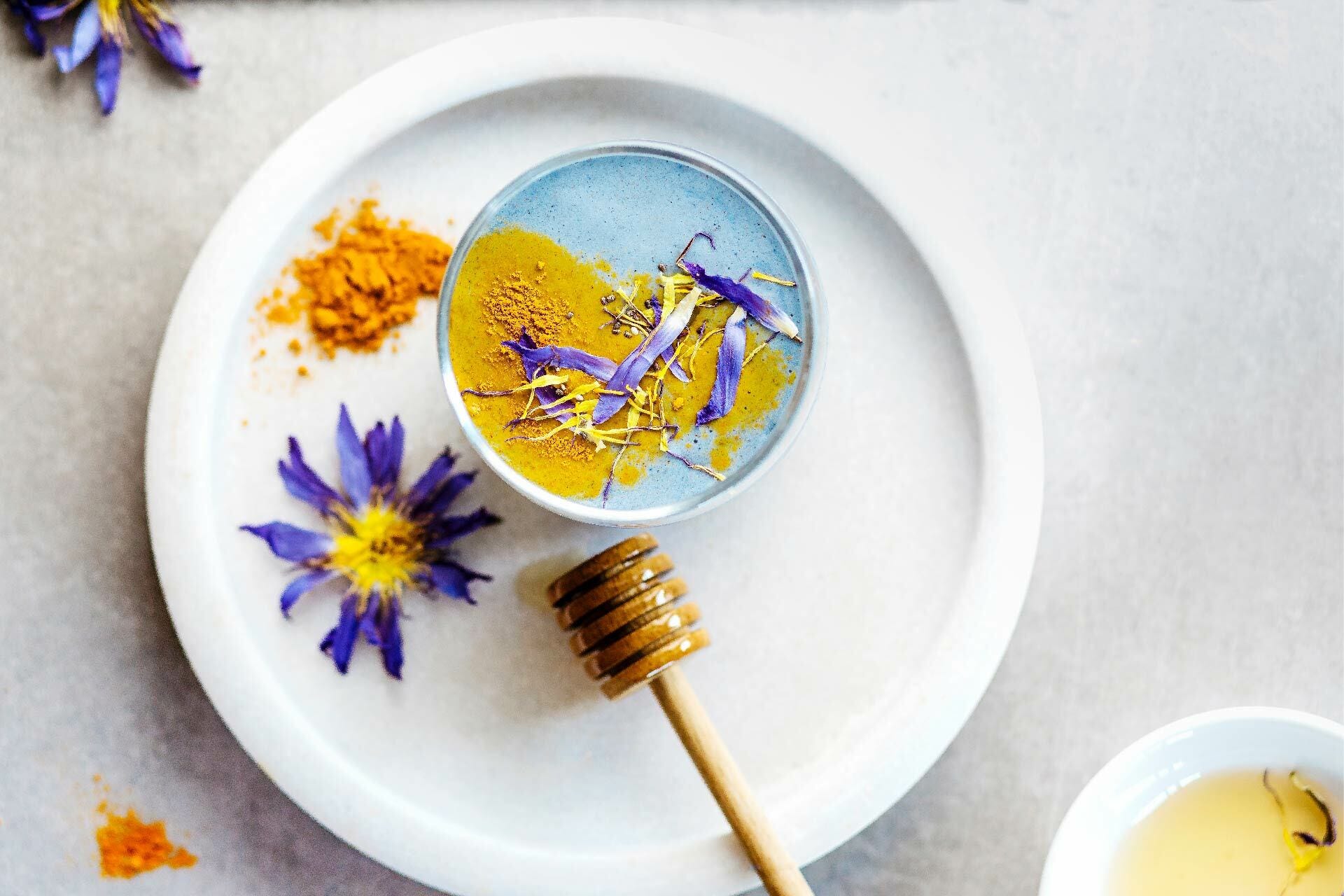 The world is having a love affair with turmeric – and for good reason. All the attention is thanks to the active ingredient in it, curcumin, which has potent anti-inflammatory properties. But you don't always have to get your fill in curry form. There are lots of other ways to eat and drink this spice.
Behold, seven ways for seven days with turmeric.
1. Turmeric porridge
Make a sweet porridge bowl: Whip up quick oats with coconut or almond milk and a small piece of turmeric (or 1/8 tsp of powder), along with 1/8 tsp of each of the following: cinnamon, ginger, cardamom and vanilla. Top with a shaved apple, maple syrup, flaxseeds, sultanas, coconut yoghurt and a pinch of salt.
2. Turmeric latte
Make a Golden Milk latte: Combine 1/2 cup coconut milk, 1 cup water, 1 tsp turmeric, 1 tsp ghee, 1 tsp raw honey in a pan over medium heat and whisk to mix well. Serve warm. Makes one cup.
3. Turmeric smoothie
Blend into smoothies: Use 1 tsp for a subtle turmeric hit. Add up to 2 tsp for a more intense flavour. Tip: Include coconut oil in your smoothie to boost the turmeric absorption. Try this anti-inflammatory green smoothie: 1¼ cups almond milk, 1 cup kale or spinach, ¼ teaspoon turmeric, pinch of black pepper, 1 tbs chia seeds, 1½ cups frozen pineapple chunks. Blitz until smooth.
4. Frittata with turmeric
Sprinkle into egg dishes: It's easy to add a teaspoon of turmeric to your scrambled egg mixture, or add into a frittata or quiche recipe. Bonus: The colour of the turmeric will enhance the colour of the eggs. Golden.
5. Cauliflower turmeric steaks
Make a vegetarian steak: Preheat oven to 180C. Cut 1 large (about 1.2kg) cauliflower into four 1.5cm-thick slices, leaving base intact. Cook steaks in extra virgin olive oil in a non-stick frying pan over medium-high heat for 2-3 minutes each side or until golden. Transfer to a foil-lined baking tray. Whisk ¼ cup olive oil with 1 tsp of ground turmeric in a bowl until combined. Brush over steaks. Roast cauliflower in the oven for 12-15 minutes or until tender and crisp. Serve with fried curry leaves and red chilli.
6. Dhal
Make a comfort meal: 400g red lentils, 2 tsp turmeric, 2 knobs unsalted butter or ghee, 2 tsp cumin seeds, 1 small onion, finely chopped, 2-3 cloves garlic, finely sliced and 1-2 fresh green chillies, finely sliced are all you need to make a delicious dhal. Check out Jamie Oliver's guide to lentils and basic dhal for the full recipe. Good news for flexitarians – this is a hearty #MeatfreeMonday option.
7. Lemon and turmeric energy balls
Make balls of energy: These superfood-filled, protein-packed bites are perfect for a pre-workout boost or midday recharge. Add the following to a food processor: 12 pitted and softened in water dried Medjool dates, 1 cup oats, ½ cup almonds, 1 tbs chia seeds, 4 tbs lemon juice, 1 tsp lemon zest, 1 tsp vanilla extract, 1 tsp ground turmeric and blend until mixture turns into a dough-like consistency. Add 1 tbs water if mix is too dry. With the small spoon scoop the mixture and roll into balls, dusting with shredded coconut to finish. Store energy balls in an airtight container in the fridge.