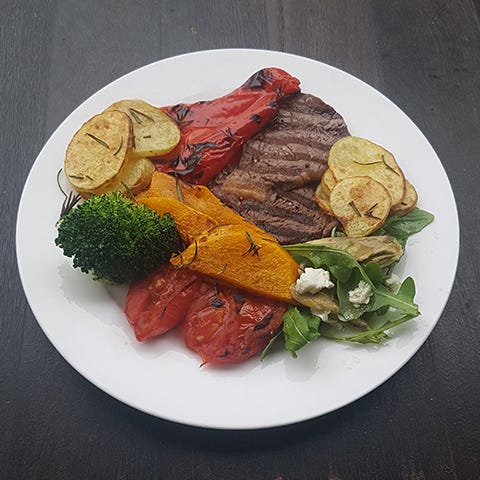 Recipes For Warmth And Wellness
Meat and more than 3 veg
Ingredients (Per person)
120grams lean beef fillet

100grams pumpkin

½- 1 small potato

Fresh rosemary for sprinkling

½ cup broccoli

½ cup rocket

Goats cheese

¼ Avocado

¼ -1/2 Red capsicum

Extra virgin olive oil

Black pepper

½ clove garlic

Squeeze of lemon
Method
Marinade the steak with some extra virgin olive oil, ½ clove of finely chopped garlic and some freshly ground black pepper.

Leave for half an hour or more. This can be done the night before if preferred.

Fire up the barbeque.

Cut the peeled pumpkin and potato (you can leave the peel on) into thin slices and steam, boil or microwave until nearly cooked.

Dry and layer onto baking paper drizzling with extra virgin olive oil and sprinkling with rosemary, black pepper and a little salt or other herbs. Place in the oven on grill until golden. Turn the pumpkin and potato over and grill until golden brown also. If you have room you could brown these on the grill of the barbeque instead.

Wash and chop the capsicum into ¼'s and drizzle with extra virgin olive oil. Place on the barbeque until slightly charred.

While the capsicum is cooking place the marinated meat and cook as desired, rare, medium, well done. Remove from the barbeque and let the meat 'rest' covered for 5minutes to become tender.

Cook the broccoli in the steamer or microwave so it is still bright green. Serve with a squeeze of lemon, some cracked black pepper and a little extra virgin olive oil.

Wash a handful of rocket and toss with ¼ chopped avocado and a small crumbled cube of marinated goats cheese.

Serve.
Vegie bake
Ingredients:
6 eggs

¾ cup milk

¾ cup tasty cheese- ½ cup for on top

1 grated zucchini (water squeezed out)

1 onion, finely chopped

6 mushrooms, sliced

2 -3 sliced fresh tomatoes

4 boiled potatoes thinly sliced

1 teaspoon sweet paprika

Extra Virgin Olive Oil

Black pepper

Salt to taste

Basil
Method:
Peel and slice thinly the potatoes. Boil or steam until slightly soft. Line the base of a rectangle baking dish with the cooked potatoes.

Beat the 6 eggs in a bowl.

Add the milk, ¼ cup cheese, paprika, black pepper and a salt to taste.

Grate the zucchini and add to the egg mixture.

In a pan add a little extra virgin olive oil and fry the onions and mushrooms until soft and slightly golden. Cool.

Add the onion and mushroom mix to the eggs mixture.

Pour egg mixture over the potatoes.

Sprinkle with the remaining cheese

Top with sliced tomatoes.

Bake 40minutes 180-190

Sprinkle with fresh basil and serve with steamed greens or a green salad.
Tofu laksa
Serves 4
Ingredients:
800g firm tofu, cut in to small cubes

1/2 cup laksa paste

2 cups of coconut milk

1.5 litres of chicken stock

1 small lime (juiced)

1 tsp. Chinese rock sugar

250g dried vermicelli noodles

Small handful of mint leaves (chopped)

Small handful of thai basil (chopped)

1-2 baby bok choy (quartered)

2 cups bean sprouts

Red chillies (optional)
Method:
Heat up a wok or large frying pan on medium-high heat. Throw in the laksa paste and cook for 2-3 minutes.

Pour in the coconut milk and stock. Add your lime juice, Chinese rock sugar and mint and then bring the soup up to a boil, reduce the heat to low and let it simmer for half an hour with the lid on.

After 20 minutes of the soup cooking away, boil your kettle and place the dried vermicelli in a large bowl. Fill the bowl with hot water and leave for 5-6 minutes or until the noodles have softened to the desired consistency. They should still be slightly chewy. Drain and transfer to the serving bowls.

Add the baby bok choy and tofu cubes to the soup. Cook for no longer than 2 minutes to ensure the baby bok choy doesn't become too soft.

Divide your noodles between the bowls. Pour your soup over the noodles, ensuring the tofu cubes and baby bok choy is evenly distributed. Top with bean sprouts, mint leaves and Thai basil. For an extra kick, sprinkle some red chillies over the top.