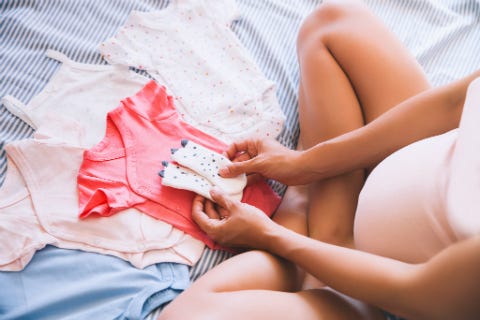 It may seem like your pregnancy will go on forever, but you'll get to meet little bub before you know it. Although nothing can truly prepare you for parenthood, there are a few steps you can take to help you get ready for life's greatest journey.
Hopefully, you selected your healthcare provider (be that an obstetrician, midwife or other appropriate healthcare professional) and hospital (if you are planning on a hospital birth) earlier on in the pregnancy, to give you support throughout your pregnancy journey. They can regularly check up on your baby's development and answer any questions you may have. Never underestimate the calming effect of feeling prepared!
Some helpful ways to prepare for your baby's arrival
During the last few weeks of pregnancy, you may wish to start making practical arrangements for the delivery. Here is a suggested checklist:
1. Pack your "labour bag" for the hospital, or gather supplies for a home birth if that is what you plan to do. You will normally be given a list of items that are recommended for you to take for the birth (and if appropriate, for your stay in the hospital) during your antenatal classes. You may also wish to consider the following:
Socks and loose, comfortable clothing

Snacks and drinks

Other comfort items such as lip balm, hair bands, face cloth, hot water bottle
Are you going to have a companion or someone to support you through the labour? If so, you should consider packing clothing, snacks and drinks for them as well. Just in case, you need to prepare for a lengthy labour.​
2. Acquire all the necessities your baby will need. These include the cot and mattress, blankets, sheets, towels, nappies (disposable or cloth), wipes, baby powder, nappy rash cream, other personal care products for babies (shampoos and soaps), clothing, a baby car seat, stroller/pram, and baby carriers. You may also need to bring some of these baby necessities, such as clothes and care products, with you for a hospital birth. Pack these in your labour bag.
3. If you plan to breastfeed, you may wish to get these supplies ready as well. At the very least, you will need good-quality nursing bras (without underwiring, as this can impact breastmilk production) and breast pads. Pack these also in your labour bag. You should also find out the name and contact details of lactation experts in your area in case you need help or advice. Note that the hospital may have a lot of information to assist you once you are on your own, such as the contact details of appropriate healthcare professionals.
4. Declutter. This may be the last chance to clean your home for a while. It's also worth clearing out any unwanted belongings because your baby can take up a lot of space.
5. Meal and grocery plans. Stock up your pantry with non-perishable items. Make sure you have some easy-to-prepare meals ready to go. Alternatively, you may want to prepare some dishes in advance and freeze them.
6. Line up post-delivery help. The constant and unpredictable needs of a newborn can be overwhelming, especially if you are a new mother. Enlist your mother, mother-in-law, relatives, friends, or hired help. If you plan to hire someone, it is worth "shopping around" to find someone who understands your needs. Find out the rates, duties performed, and training/qualification required. Referrals from someone you know is usually a good start.