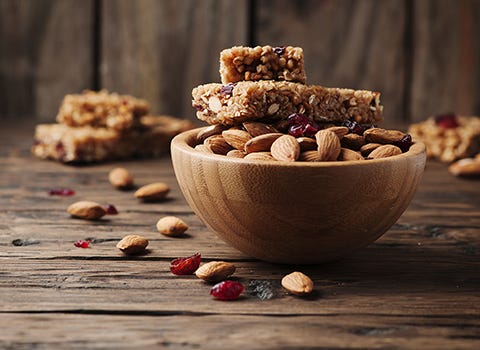 Pack A Punch Of Protein With Our Delicious Bars
Try our delicious protein bars. They're easy to make and convenient to carry around, for whenever you need a little protein hit.
Ingredients:
1 1/2 cups quinoa flakes

1/4 cup almonds, chopped

1/4 cup cashews, chopped

1/4 cup seeds

1/4 cup shredded coconut, unsweetened

1/2 cup whey vanilla protein powder

1 egg

2/3 cup natural Greek yogurt

1/3 cup nut or seed butter, unsweetened

3 Tbsp raw honey

2 Tbsp extra virgin olive oil

1/4 cup dried sultanas

1/4 cup dried goji berries
Method:
Preheat oven to 180°. Line a 20cm square tin with baking paper.

Spread thinly quinoa, nuts, seeds and coconut on baking tray and bake until toasted, about 6–8 minutes, stirring occasionally.

Transfer to a large bowl and let cool.

Combine quinoa mixture and remaining ingredients, and stir until well blended.

Spread batter evenly in the prepared tin and bake for 14 minutes, or until top is golden brown. Remove from oven and allow to cool.

Cut into bars.