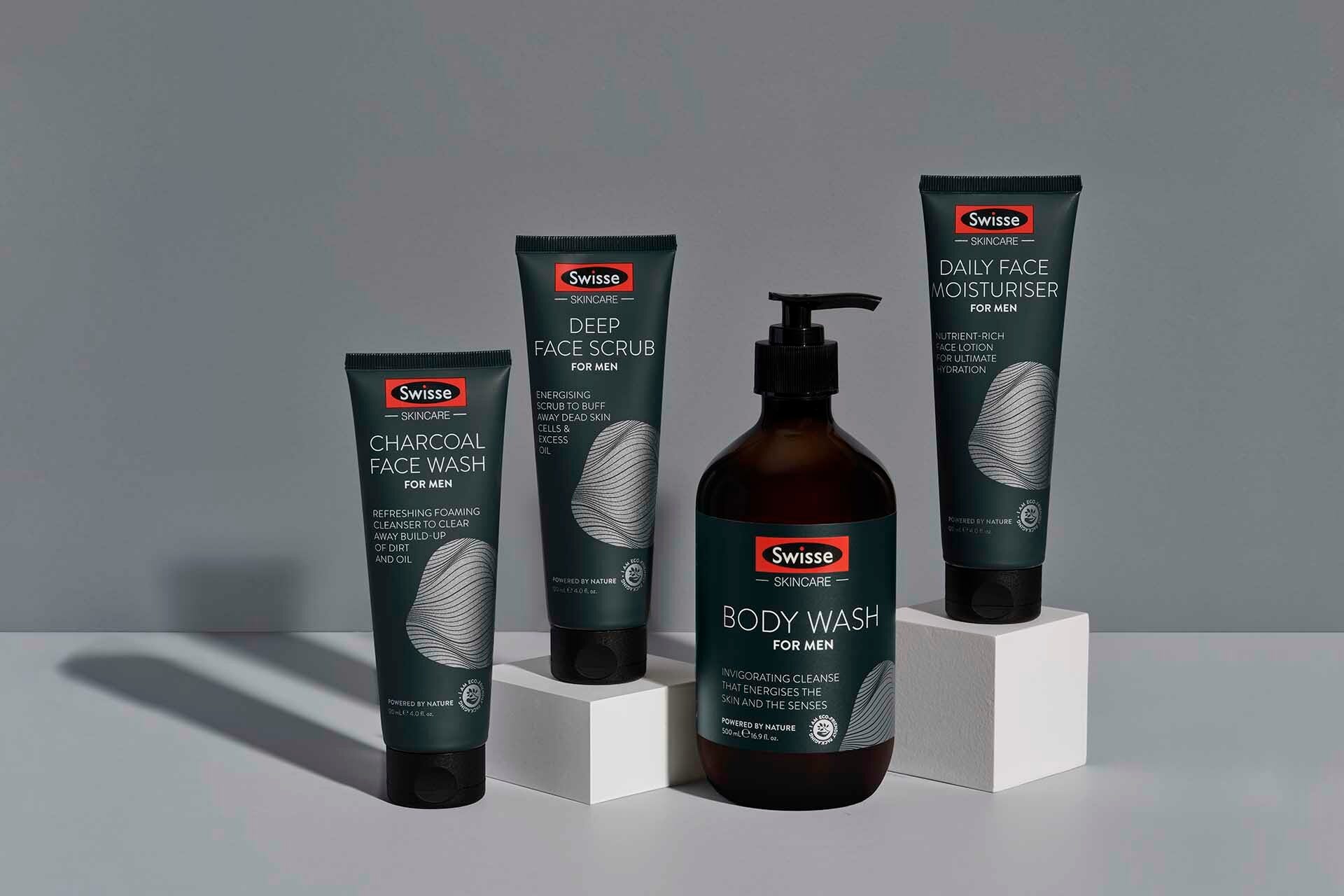 Supercharge Your Skin With The NEW Swisse Men's Skincare Range
Power your daily routine
We know men like to keep it simple. This is why we've created a range of naturally simple Swisse Skincare For Men, tailored to support skin health in your morning and night time routine. Combining nature and science, the new men's skincare range is gentle on the skin and contains active ingredients packed with botanicals to supercharge your skin. Just like all Swisse Beauty skincare products products, our new range of men's skincare is made with naturally derived ingredients and is free from toxic ingredients that may harm the body and environment.
Our packaging innovation team have crafted the new range with sustainable packaging alternatives. We're proud that our tubes are made with 66% sugarcane resin and that the body wash packaging is 100% recycled.
A New Skincare Routine For Men – Guys, It's A Thing!
Step 1: Activate Your Skin
NEW Swisse Charcoal Face Wash for Men: Formulated with Charcoal Powder, Tea Tree Oil and Licorice Root Extract, leaves the skin feeling clean, clear and refreshed by cleansing and removing dirt and excess oil.
Step 2: Gettin' Gritty With It
NEW Swisse Deep Face Scrub for Men: Made with natural Walnut Shell Powder to buff away dead skin cells and remove oil build-up, plus Rice Bran and Glycerin, for a smooth, soft and shine free finish ready to be hydrated with the Daily Face Moisturiser.
Step 3: Soap It Up
NEW Swisse Body Wash for Men: Made with a blend of essential oils including Cedarwood Oil, Rosemary Leaf Oil and Lemon Peel Oil, the body wash thoroughly cleans while maintaining skin hydration to energise the skin.
Step 4: Get That Hydrated Finish
NEW Swisse Daily Face Moisturiser for Men: A nourishing, fast-absorbing and non-greasy lotion made with Glycerin, Cocoa Seed Butter and Niacinamide to hydrate the skin and replenish the skin's moisture barrier.
Tailored Men's Skincare… is a man's skin really that different to woman's?
The answer is yes! Besides having facial hair, there are structural differences between men and women's skin. Here are two key differences that you may not be aware of:
Skin Thickness and Collagen
A man's skin is about 25% thicker than a woman's. With higher levels of testosterone, a man's dermis and epidermis skin layers tend to be thicker and have more elastin and collagen density which are responsible for skin firmness and elasticity[1].
Pores and Skin Oil Production
Men have larger pores - almost two times the size of a woman's, making them more susceptible and prone to breakouts and clogged pores[1].
Men often also produce more oil in their skin than women[1].
Skin care: It's just as important for men
Because a man's skin is thicker, rougher and produces more oil, a good skin care routine should be a daily priority to keep your skin feeling and looking healthy, fresh and energised.
Gone are the days where you'd nick your housemate or partner's skincare products. Guys, it's time to embrace your own natural and simple skincare routine tailored to your skin's specific type and benefits.
Reference:
[1] https://www.dermalinstitute.co...