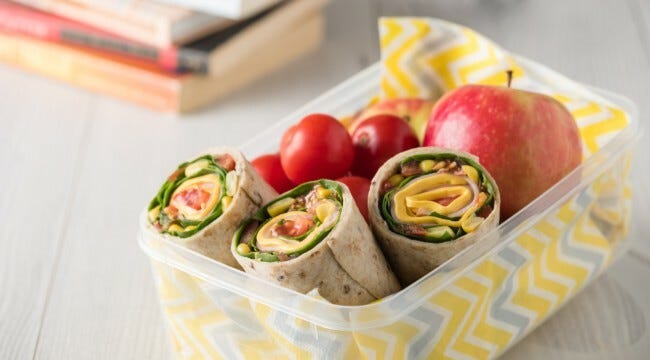 Lunchbox Recipes For Busy Parents
It's a common conundrum for many parents – how do you build a lunchbox that's a) healthy and b) actually gets eaten? If you think it's a scenario as unlikely as finding the Loch Ness Monster or your child volunteering to eat broccoli, then try our delicious, healthy and easy recipes below.
Spicy veggie and egg slice
Prep: 10 minutes / Cook: 30-45 minutes
Serves: 12
Ingredients:
2 zucchinis, grated

1 onion, peeled and chopped

2 cloves garlic, crushed

2 tablespoons sun dried tomatoes

1 small red chili, chopped

1 teaspoon grated fresh ginger

1 large carrot, peeled and grated or 3/4 cup canned, drained corn kernals

1 cup (115g) tasty cheese, grated

1 cup (150g) wholemeal self-raising flour

6 eggs, beaten

Cracked pepper to season
Method:
Preheat oven to 180°C.

In a pan, sauté onion, chili and garlic until golden brown.

Mix all other ingredients together in a large bowl.

Add the onion, chili and garlic mix to the bowl.

Pour into a greased slice tray and bake for 30-45 minutes until slightly browned on top and set in the centre.

Cut into slices. Serve warm or cold.
This is a delicious way to bump up your vegetable intake for a meal or snack.
Muesli and carrot muffins
Prep: 10 minutes / Cook: 30 minutes
Makes: 24 mini muffins, 12 patty pan style
Ingredients:
1½ cups (130g) natural muesli

1 cup (150g) wholemeal self-raising flour, sifted

½ cup (115g) sugar

1 large green apple, grated

2 medium carrots, grated

½ cup (80g) sultanas

½ cup (75g) pecans or walnuts chopped

2 eggs, beaten

⅓ cup oil (80mL), light extra virgin olive oil

1 cup (250mL) cow milk (or soy)

½ teaspoon cinnamon
Method:
Preheat oven to 180°C.

Place muesli, sifted flour, sugar, apple, carrots, sultanas and nuts into a bowl. Mix together.

Combine eggs, oil and milk in a separate bowl.

Add liquid ingredients to dry ingredients and mix gently until just combined.

Spoon mixture into 24 pre-greased mini muffin tins or 12 standard cupcake tins

Bake for 30 minutes.