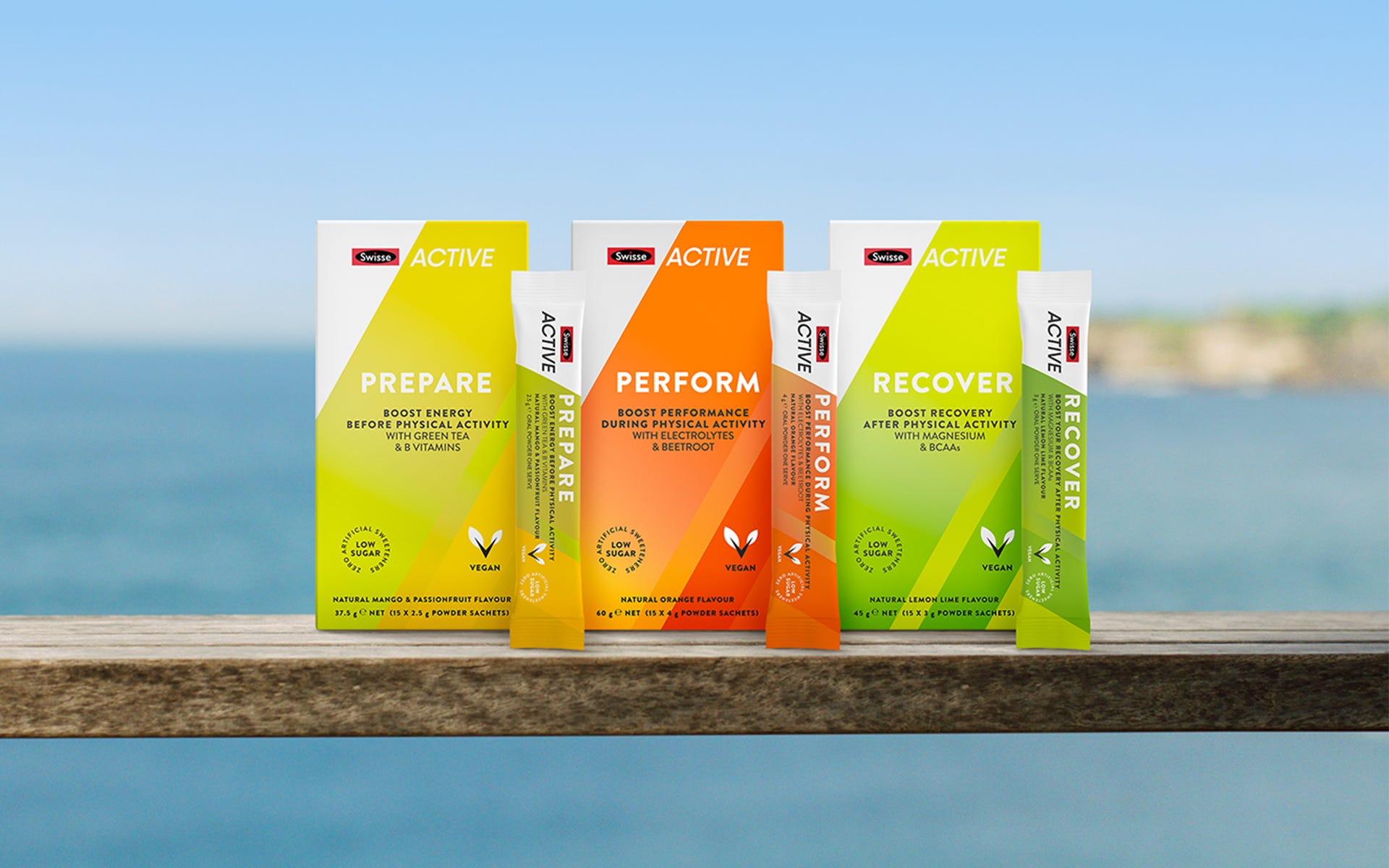 We're a nation that prides itself on being active, with almost 60% of Australians completing 30 minutes of activity on five or more days per week[1]. It's these everyday athletes that we want to celebrate and champion here at Swisse, to help them perform at their best and support them in achieving their fitness goals.
Introducing Swisse Active, our new sports nutrition range of four scientifically formulated products tailored to boost performance before, during and after every workout. Available in convenient, on-the-go formats, this exciting range supports everyday Australians who engage in physical activity to stay healthy and happy.
Prepare
Feel like you need a little prep to get going? Kickstart your workout with Swisse Active Prepare, which combines B-vitamins with caffeine to deliver an energy boost before exercise. It's available in convenient, individually wrapped powder sticks which are mixed water.
Perform
So, you're mid-workout and you need a little support to keep going. Swisse Active Perform delivers a boost to support performance and hydration, and supports muscular function while reducing tiredness and fatigue. Simply mix one of the convenient powder sticks in your water bottle to sip while you work out.
This little workout wonder is formulated with electrolytes, which are important minerals that are crucial to many bodily functions, such as muscle contractions[2]. The body loses electrolytes during exercise through sweat, so it's beneficial to replenish them[3]. Swisse Active Perform also contains beetroot which – hear us out – is rich in nitrate. Nitrate is converted to nitric oxide in the body which has been studied for potential benefits in sports and exercise[4].
Recover
You've made it to the end – well done! However, your workout routine doesn't end when you stop moving. Now it's time to replenish your body with Swisse Active Recover.
Available in convenient, individually wrapped powder sticks that are added to water, Swisse Active Recover is formulated with branched-chain amino acids (BCAAs). BCAAs are nutrients which contain three essential amino acids - valine, leucine, and isoleucine – that are found in protein structures and used by muscles. Further support comes from magnesium, which aids recovery by assisting muscle function and health. Swisse Active Recover also contains turmeric.
So, pop the convenient Swisse Active range in your gym bag today and experience support at every stage of your workout.
To be consumed in conjunction with a nutritious diet and exercise program. Not a sole source of nutrition.
References:
1. https://www.abs.gov.au/statistics/health/health-conditions-and-risks/physical-activity/latest-release
2. https://pubmed.ncbi.nlm.nih.gov/31082167/
3. https://pubmed.ncbi.nlm.nih.gov/17277604/
4. Jones, A.M. Dietary Nitrate Supplementation and Exercise Performance. Sports Med 44, 35–45 (2014). https://doi.org/10.1007/s40279-014-0149-y