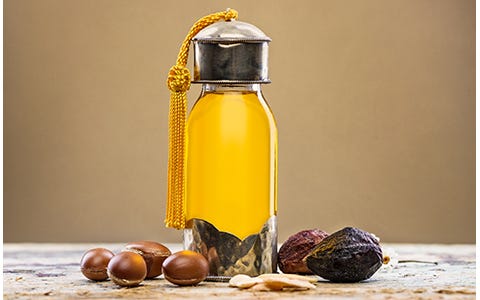 Indulge Your Skin With Argan Oil
Commonly known as "liquid gold" for its many benefits, we're a little bit in love with argan oil
The Moroccans wised up to the benefits of argan oil a long time ago. Derived from the argan tree which is native to Morocco, it's been used there for centuries for both culinary and medicinal purposes, and also as a beauty product for hair and skin.
It's taken the rest of the world a little longer to cotton on to the amazing properties of "liquid gold", as it's also know. As a skincare nutrient, it's rich in essential fatty acids which are deeply nourishing and help to replenish the skin barrier. Argan oil also naturally contains antioxidant compounds such as vitamin E and ferulic acid, which protect the skin from environmental damage and premature aging[1]. In short, it's worthy of its sobriquet.
All-over argan love
With such illustrious benefits, it's no wonder Swisse is a fan of liquid gold. You can show your whole body some argan love with our Swisse Argan Body Cream. Luxuriously formulated with organic argan oil, it's a hydrating, lightweight body cream for all over skin nourishment. We've enriched it with shea butter, cocoa butter and aloe vera for extra "oomph" factor.
Non-greasy and suitable for all skin types, our Argan Body Cream is best applied after a bath or shower when skin is still damp, as this helps lock in moisture.
Glow like gold
If you want to indulge your face in the argan experience, Swisse has your, well, back. After cleansing, apply Swisse Argan Youthful Facial Oil and massage into the skin. Allow it to absorb for a few minutes and follow with your favourite moisturiser. Finish by patting Swisse Argan Revitalising Eye Cream around the eye area (tip: use your ring finger to do this, it's the weakest finger so is the most gentle on the delicate skin around the eye).
Use this argan regime regularly to nourish and hydrate your skin, and to protect against the signs of premature aging.
References:
https://www.healthline.com/health/argan-oil-for-skin#benefits-of-argan-oil-for-skin