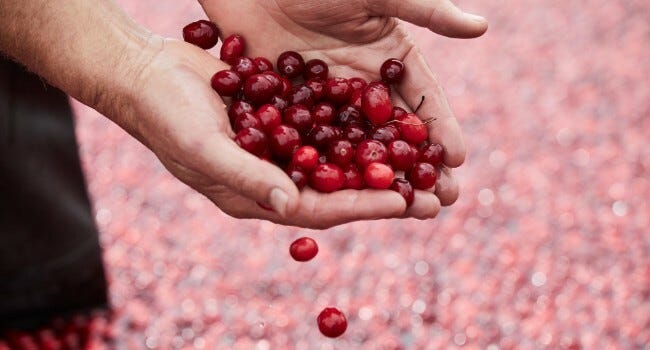 How Swisse Sources Premium High Strength Cranberry
Swisse Ultiboost High Strength Cranberry is a premium and unique product, with each capsule containing equivalent to 25 grams of pure cranberry fruit.
Swisse cranberry has a distinct advantage as it uses Pacran®, a registered ingredient that is exclusive to Swisse in Australia. Made from the whole cranberry, Pacran® is a proprietary cranberry product.
Cranberries contain several key compounds, which appear to be effective in supporting urinary tract health. In addition to its high PAC (proanthocyanidins) concentration, Pacran® contains other important compounds such as phenolics, organic acids, fibers, fatty acids, proteins and sugars. These key elements give Pacran® its long-lasting action and allow it to outperform other PAC-rich extracts.
Swisse sources the majority of its cranberries from the Cape Cod region of Massachusetts, where they thrive and have had the same families oversee many farms for over one hundred years. Other cranberries are grown in Canada. This partnership yields superior results and the best quality in the world.
In order for the crop to bear fruit, exacting requirements must be met. The summers must be hot and the winters very cold. The fields in which the vines are grown must have highly acidic soil. The farms themselves must be set up in such a way that the fields – known as cranberry bogs – can be flooded and drained efficiently. In spring, the bogs are drained and blossoms appear for bees to pollinate.
By mid-summer, the petals fall from the flowers, leaving tiny green nodes that eventually turn into cranberries. Autumn is harvest season, and the bogs are flooded again so the fruit – which floats – can be removed from the vines and scooped up. In winter, the bogs remain flooded with water, which freezes and insulates the vines from frost, providing the crop with the coolness it craves plus a degree of protection.
For Swisse, using the high potency Pacran® means its customers know they are purchasing a premium quality formula based on scientific evidence.