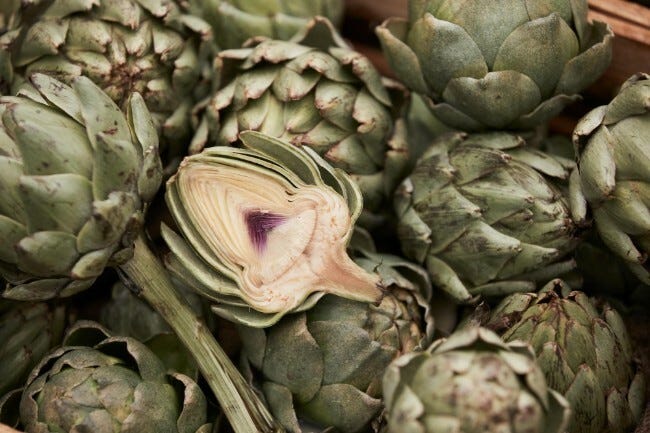 How Swisse Sources Globe Artichoke
A warm summer, mild winter and wet springs. These three components make up the ideal environment for globe artichokes to flourish, and Swisse's quest to find this habitat took us to Lorca in southeast Spain. A stunning region situated on the coastline with mountainous areas to the northwest, it's provided the perfect climate to cultivate globe artichokes for hundreds of years.
The story begins
The globe artichoke story begins each September, when cut stems are planted directly into the soil. Every fortnight, the fields are flooded with water from special water reservoirs to release the soil's nutrients. A high-quality, nutrient-dense soil is key when growing artichokes, as it allows the roots to grow very deep into the ground.
The soil yields three crops per year and the crop is rested every three years, to allow for soil turnover and rotation, and to help mitigate weeds or pests.
Time to harvest
Harvesting globe artichokes is a labour of love, as it is one of the few ingredients still grown and harvested by hand with no machinery involved - a farming tradition which has been passed down from generation to generation. Around October, once fully grown, the artisanal harvesting begins. The artichoke is checked every five days and once farmers are satisfied they have reached the perfect size, they are cut by hand, right before they bloom. The final step in the process is drying the crop.
Benefits of the globe
Globe artichoke has long been used traditionally used in Western Herbal Medicine to help relieve symptoms such as flatulence, abdominal bloating and discomfort. Known for its choleretic properties, it helps to increase the liver's production of bile and therefore assists with healthy digestion. Swisse is proud to use Lorca hand-sourced globe artichoke in Swisse Ultiboost Liver Detox.
This medicine may not be right for you. Read the label before purchase. Follow the directions for use. If symptoms persist, talk to your health professional. Vitamins and Minerals may only be of assistance if dietary intake is inadequate.