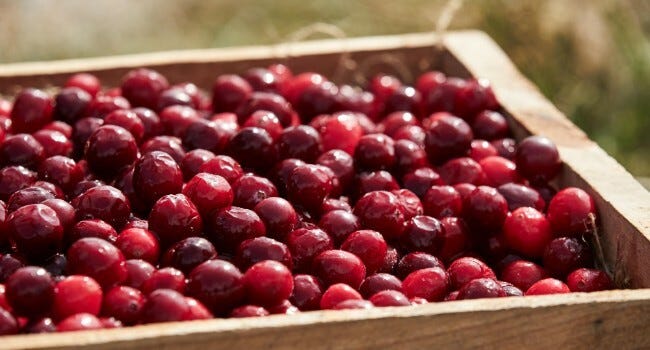 How Swisse Sources Cranberries
Imagine a giant cranberry field in the shape of a heart. A ruby-red gift from nature. Something perfect, stunning and natural, all at once.
This is exactly where Swisse sources cranberries from. Come with us to the family-run cranberry farms in the Cape Cod region of Massachusetts, USA, where a natural cranberry bog in the shape of a vibrant red heart beats its goodness into the rich soil.
The science of sourcing cranberries
There's a science to creating this beauty. In order for the cranberry crop to bear fruit, exacting requirements must be met. The summers must be hot and the winters very cold. The fields in which the vines are grown must have highly acidic soil. The farms themselves must be set up in such a way that the fields – known as cranberry bogs – can be flooded and drained efficiently. In spring, the bogs are drained and blossoms appear for bees to pollinate.
By mid-summer, the petals fall from the flowers, leaving tiny green nodes that eventually turn into cranberries. Autumn is harvest season, and the bogs are flooded again so the fruit – which floats – can be removed from the vines and scooped up. In winter, the bogs remain flooded with water, which freezes and insulates the vines from frost, providing the crop with the coolness it craves, plus a degree of protection.
Supporting your wellness
Cranberries have long been used to support urinary tract health, as they contain several key compounds which work to effectively prevent the adhesion of bacteria to the urinary tract wall. They are naturally rich in antioxidants, especially vitamin C and phytonutrients, (substances found in plants that are known for their antioxidant properties).
The whole of the fruit
Swisse-sourced cranberries have a high PAC (proanthocyanidins) concentration, known as PACran®. PACran® contains other important compounds such as phenolics, organic acids, fibers, fatty acids, proteins and sugars. The beauty of PACran® is that it uses the whole of the fruit, rather than just the juice, so no goodness is wasted. This is particularly positive given that the antioxidants in cranberries are more concentrated in the skin, rather than the juice.
Swisse Ultiboost High Strength Cranberry can be taken daily to support urinary tract health, with each Swisse capsule containing equivalent to 25 grams of cranberry fresh fruit.
Always read the label. Follow the directions for use. If symptoms persist, talk to your health professional. Supplements may only be of assistance if dietary intake is inadequate.