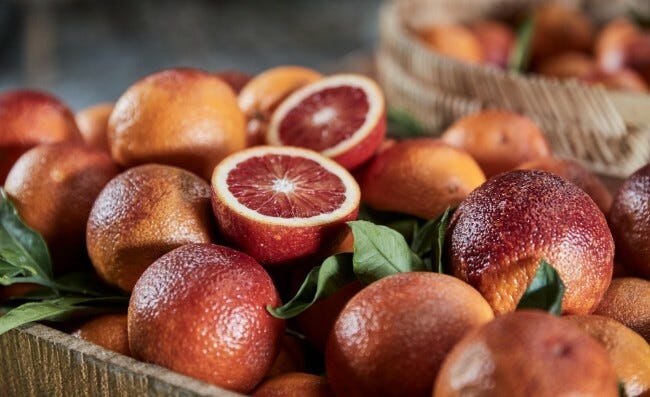 How Swisse Sources Blood Orange
To understand the Swisse blood orange story, you first have to go to the beautiful island of Sicily in Italy. Imagine yourself pottering around the nutrient-rich volcanic soil that surrounds Mt Etna, taking in everything this stunning environment has to offer.
Swisse chose Mt Etna as the source for one of our favourite ingredients, because oranges from this region are rich in antioxidants derived from anthocyanins, which also affords them their rich crimson colour.
The Sicilian climate offers the perfect growing conditions for blood oranges, with temperatures shifting between mildly hot days and chilly nights during the months of March and April, when the oranges ripen.
Collecting the oranges is a very personal process. They are closely monitored during the harvesting season to assess their progress and to select the best moment for picking. They're harvested by hand, as avoiding the use of machinery maximises the eco-sustainability of the process.
Immediately after they're picked, the crop is transported from the fields to the processing facilities, so they arrive the same day that they were harvested. Once in the processing facility, no fossil fuels are used for machinery and the aim is to recover all by-products to minimise waste.
The juice and peels are separated, and the juice is processed for extraction. Over two to three days, the extracts are refined by a unique process to ensure the quality is sustained. This involves recovering the most desirable natural elements, while avoiding pollutants, solvents, preservatives or other chemical substances.
You can enjoy the superior benefits of Sicilian blood orange in Swisse Ultiboost Hair Skin Nails Liquid.
Always read the label. Follow the directions for use. Supplements may only be of assistance if dietary intake is inadequate