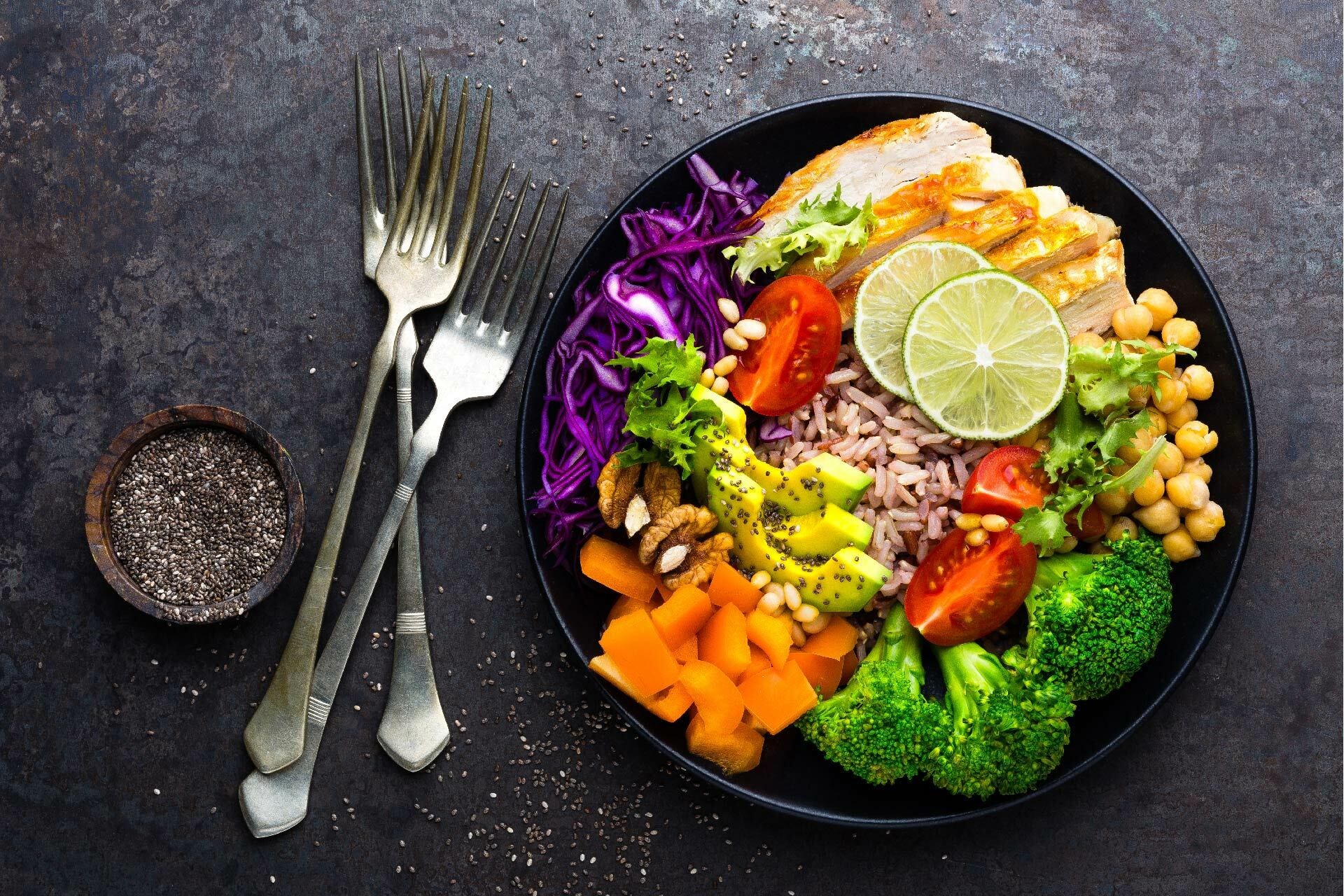 Five Quick, Healthy Buddha Bowl Lunch Ideas
Bowls are the new plate! Whether a Poke bowl, Buddha bowl, sushi bowl or just about any combination, bowl food makes a quick, delicious way to enjoy a super food meal!
Not only are bowl meals a great way to use up what is in the fridge, reducing your food waste, you can make them to suit everyone. Whether it be for breakfast, lunch or dinner the family can add their favourite ingredients to produce their own nourish bowl. Lay out the ingredients and away you go!
Creating the best buddha bowl
When creating your bowl there are a few nutrition tips to think about to ensure it has a good nutritional balance.
1. Add in plenty of vegetables
A good start is lining the bowl with some leafy greens e.g. spinach, kale, lettuce, baby beetroot leaves. Then choose a variety of others, with a mix of different colours. The vibrant colours of fruit and vegetables are thanks to many of the vitamins and polyphenol compounds they contain. They are responsible for many of the health benefits. Cucumber, carrots, olives, onion and roasted leftover vegetables are all great options.
2. Don't forget wholegrains
Include a wholegrain such as brown rice, barley, teff or freekeh. The carbohydrate will help fuel you for the rest of the day. If not a wholegrain how about a carbohydrate rich vegetable such as roast potato, sweet potato or corn?
3. Healthy fats
Add in sources of healthy fats such as oily fish (tuna, trout, salmon, sardines), avocado, nuts, seeds or drizzling's of delicious extra virgin olive oil. The healthy fats will increase the absorption (1) of the fat soluble vitamins (A,D,E,K).
4. Protein
Remember a serve of protein, such as cheese, lean meat, fish, egg, tofu or legumes. Nuts and seeds will also add a little more. It is best to spread out our protein (2) intake over the day for maximum absorption.
5. Spice it up
Give the bowl some zing, with herbs or spices, such as basil, oregano, thyme, sage, coriander, chili, parsley- they are packed with flavour. Sauces, such as satay, soy and chutneys can add interest too, however watch the sodium level they can be high. Best options are those with less than 120mg of sodium per 100g and ok options are those with 400mg of sodium or less according to the Heart Foundation 'Unpack the Salt Campaign' (3). A dressing with a balsamic, red wine or other vinegar mixed with a tasty oil can bring the dish alive.
What ever your bowl combination might be, experiment with new ingredients. It is a great way to increase the repertoire of foods in your diet, boosting the number of plant foods you plough through! These will have you interested the whole week through.
References:
1 https://www.ncbi.nlm.nih.gov/pmc/articles/PMC5611781/
2. https://jissn.biomedcentral.com/articles/10.1186/s12970-018-0215-1
3. https://unpackthesalt.com.au/