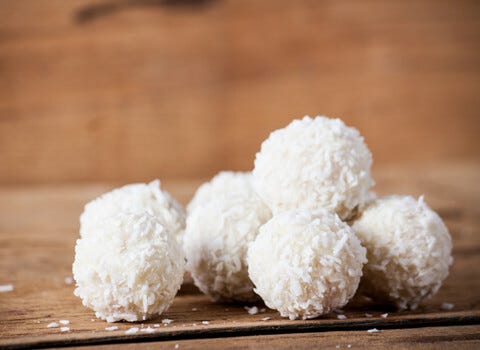 Clean Eating: Vanilla Protein Balls
Easy vanilla protein ball recipe
Keeping away from unhealthy snacks and treats during the day can be a struggle but it's essential if you want to achieve real results and maintain a healthy lifestyle. One of the best snack alternatives is the protein ball. Not only are they delicious and make it seem like you are treating yourself, but they help you keep your protein intake up, feeding your muscles and keeping hunger at bay. Check out the recipe below for the ultimate protein balls!
INGREDIENTS:
1 cup vanilla whey protein powder

1/2 cup almond meal

1/2 cup shredded coconut, plus extra to serve

1/2 tsp. vanilla essence

3 tbls. 100% peanut butter

3 tbls. honey

3-4 tbls. water
METHOD
Combine all dry ingredients in a mixing bowl. Add peanut butter, honey and water and mix into a dough. The mixture should be just wet enough to hold together as balls, however not too wet as balls will become sticky.

Form dough mixture into balls and roll in shredded coconut until covered. Store balls in container in fridge.