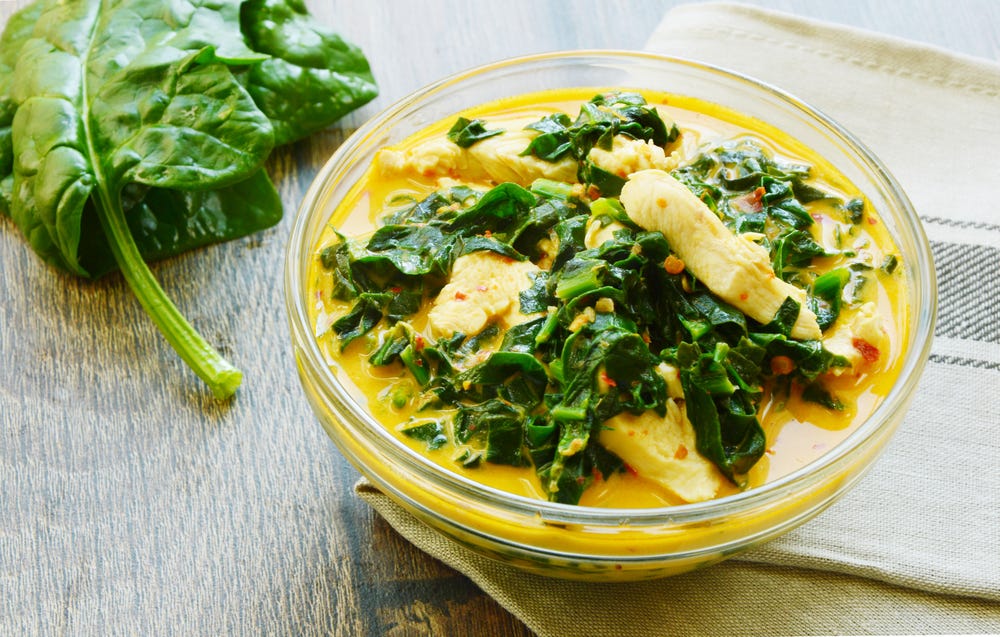 Delicious Family Recipes To Meal-Prep Ahead Of Time
Easy chicken and spinach curry
Curry is often better tasting the next day when it has developed its flavour, so this is a great dish to cook ahead of time ready for the evening meal. You can add in extra vegetables and reduce the chicken quantity if desired. If you are looking for a vegetarian option, then swap the chicken for 1 x can chickpeas and 1 cup cauliflower florets. You can cook this on the stove top or in the slow cooker ready for when you come home.
Ingredients, serves 6
1 onion, finely chopped

4cm piece of ginger, peeled and chopped

2 cloves of garlic, finely chopped or crushed

1 tablespoon Extra virgin olive oil

2 tablespoons tikka masala paste

3 tablespoons natural yoghurt

2 tablespoons tomato paste

½ cup water

8 skinless chicken thighs, cubed (~1kg)

1 x 400g tin of chopped tomatoes

1 x 400g tin of green or brown lentils

1 x 400g tin of light coconut milk

2 handfuls of baby spinach, chopped
Method
Add extra virgin olive oil to a large saucepan or pan.

Add the onion and sauté until soft and golden

Add the ginger and garlic

In a bowl mix the tikka masala paste, yoghurt, tomato paste and water together.

Add the cubed chicken thighs to the bowl and stir until covered.

Tip into the pan and cook until the chicken starts to golden on the outside

Add the tinned tomatoes, drained lentils and coconut milk. Bring to the boil, reduce the heat and simmer for 45minutes, stirring occasionally. Add extra water if needed.

Stir in the spinach and allow it to wilt.

Serve with wholemeal basmati rice and yoghurt on the side, with added steamed side greens if you desire.
San choy bau
Looking for a nourishing meal the whole family will enjoy? San choy bau ticks this box. It is easy to make for a weeknight or weekend meal. Everyone can get involved, with a small job of washing the lettuce or at the stove cooking the filling. It is a great way to load in the vegetables and include brown rice for wholegrains. You could swap the pork mince for chicken, white fish or tofu as your protein source.
Ingredients: serves 4 (makes 8)
1 tablespoon extra virgin olive oil

500g minced lean pork

6 spring onions, sliced

2 cloves garlic, crushed

1 small piece ginger, peeled and chopped

1 stick celery, diced

1 medium red capsicum, seeded and diced

100g mushrooms, diced

1 cup cooked rice (preferably brown)

1 teaspoon cornflour

2 tablespoons reduced-salt soy sauce

1 tablespoon fish sauce

1 tablespoon chilli sauce

1 tablespoon rice wine vinegar or dry sherry

1 cup mung bean shoots

8 large iceberg lettuce leaves

Fresh coriander to garnish
Method
Heat oil in wok or non-stick frypan.

Cook pork until separated and cooked through, then set aside leaving oil in the pan.

Place onions, garlic, ginger, celery, capsicum, mushrooms and rice into the hot pan and cook gently, stirring until softened.

Return the pork to the pan and mix well.

In a small bowl, combine cornflour, sauces and vinegar, add to the pork mixture with the mung bean shoots and stir through until bean shoots are wilted and mixture has thickened slightly.

Place two crisp lettuce leaves on each serving plate and spoon the filling onto each leaf. Garnish with fresh chopped coriander if desired.

Serve whilst still hot.