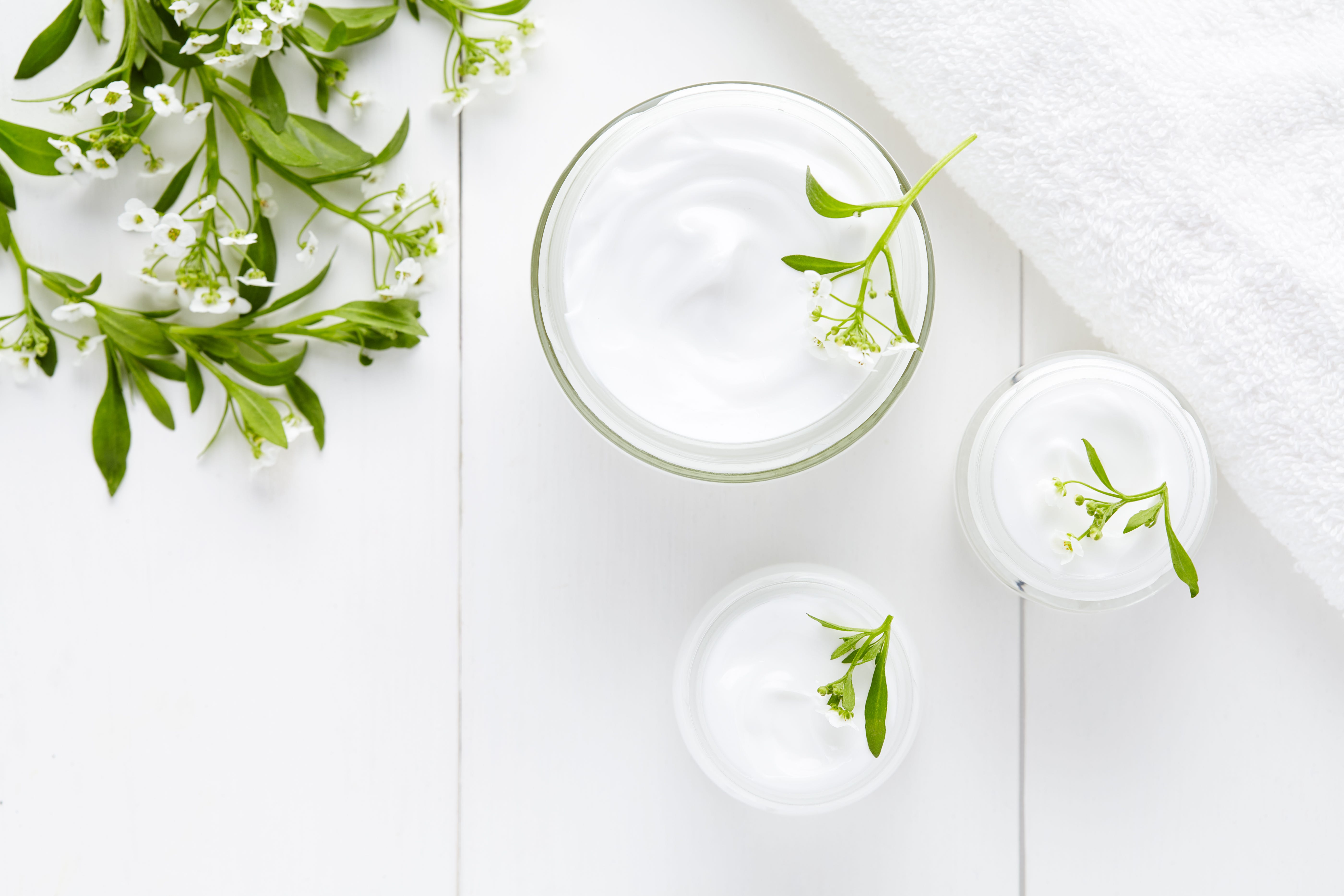 Clean beauty is bigger than ever with consumers wanting natural active ingredients to support their skin for a more youthful looking glow. More than ever, people living healthy lifestyles want to complement their routine with natural skincare that considers not only the health of their skin, but their inner wellbeing too.
Mature skin, dehydrated skin and compromised skin all require actives to nourish the skin to maintain a more plump, hydrated and clear complexion. Finding the right balance between natural and active skincare can be a tricky task in the beauty space. Combining nature and science with natural actives can provide the skin with renewing ingredients to slow down the signs of premature aging. Natural botanicals, polypeptides and trending ingredients like bukochiol have anti-ageing properties that can protect and nourish the skin' surface. 1,2
Botanical actives can penetrate the skin to protect, nourish and add hydration to the skins surface and deeper layers. 1, 2
Environmental stressors combined with internal factors contribute to skin ageing. This natural progression causes cell turnover to slow down and the skin weakens leading to tired and lack luster looking skin. Ageing skin is often marked by a decrease in ceramide levels and collagen production which requires key active ingredients to protect the skin from oxidative stress and signs of premature ageing.3
While actives are important, so too are natural ingredients. Beauty is more than skin deep. Did you know we can be exposed to over 80,000 endocrine disruptive chemicals in our environment? Including popular beauty and personal products. 4 The downside of many of these commonly used personal products is that they can contain chemicals that the body absorbs which can impact our endocrine system aka hormones. Seeking out clean and natural active skincare provides various skin benefits, while being free from harmful chemicals. 5
Key natural active ingredients to keep on your radar
Bio-ceramides: ceramides play an important role in supporting skin moisture and protecting the outer skin barrier, naturally supporting healthier looking skin and improving overall skin condition.3
Resveratrol: An antioxidant powerhouse which helps protect the skin from free radical damage caused by environmental triggers that may lead to premature ageing.6
Age-defying botanical complex: A naturally derived plant extract which binds moisture for intense hydration and visibly smoother skin. Clinically proven to be ultra-hydrating. This plant extract plumps, softens and smooths dry skin, without feeling heavy or oily. Botanical plant complexes can reduce total epidermal water loss, while improving the appearance of stressed and tired skin by plumping, softening and supporting the skin moisture barrier. 7
Bakuchiol: A natural alternative to retinol; this plant-based alternative to Vitamin A is scientifically proven to deliver similar benefits to retinol without the harsh effects. Its antioxidant properties help protect the skin from free radical damage caused by environmental triggers that may cause premature ageing. 8
Skin-improving polypeptides: Short chain amino acids are naturally present in the skin. Polypeptides support healthy looking skin.
Pro-vitamin b5 skin conditioner: This water-soluble vitamin improves stratum corneum hydration and enhances the skin barrier for a more renewed look. 10
3 Lifestyle tips to support skin from within:
Consume prebiotic foods (Jerusalem artichoke, garlic, leek). These foods feed our microbiome – the healthier the gut, the healthier the skin will look.

Consider more omega-3 rich cold-water fish, nuts and seeds. These foods contain essential fatty acids which are an important component of healthy cell membranes for hydrated and plump looking skin. 11
Research shows a minimum of 2L of water per day significantly impacts the skins physiology. 11
References:
Mukherjee PK, Maity N, Nema NK, Sarkar BK. Bioactive compounds from natural resources against skin aging. Phytomedicine. 2011 Dec 15;19(1):64-73. doi: 10.1016/j.phymed.2011.10.003. Epub 2011 Nov 23. PMID: 22115797.
Skin Bioactives. https://www.dsm.com/personal-care/en_US/products/skin-bioactives.html. [MM1]
Coderch, L., López, O., de la Maza, A., & Parra, J. L. (2003). Ceramides and skin function. Am J Clin Dermatol. 4(2):107-29. doi: 10.2165/00128071-200304020-00004.
Parrado, C., Mercado-Saenz, S., Perez-Davo, A., Gilaberte, Y., Gonzalez, S., & Juarranz, A. (2019). Environmental Stressors on Skin Aging. Mechanistic Insights. Frontiers in pharmacology, 10, 759. https://doi.org/10.3389/fphar.2019.00759.
EWG's Skin Deep. https://www.ewg.org/skindeep/search/?page=1&search=serum&utf8=%E2%9C%93
Addor FAS. Antioxidants in dermatology. (2017). An Bras Dermatol, 92(3) 356-362.
DSM Nutritional Products. 2018, https://www.dsm.com/personal-care/en_US/products/skin-bioactives/.
Chaudhuri, R. K., & Bojanowski, K. (2014). Bakuchiol: a retinol-like functional compound revealed by gene expression profiling and clinically proven to have anti-aging effects. International Journal of Cosmetic Science, 36(3), 221–230. doi:10.1111/ics.12117.
Ganceviciene, R., Aikaterini, I. L., Theodoridis, A., Makrantonaki, E., Zouboulis, C. (2012). Skin anti-ageing strategies. Dematoendocrinol, 4(3): 308–319.doi: 10.4161/derm.22804, https://www.ncbi.nlm.nih.gov/pmc/articles/PMC3583892/.
Camargo, F. B Jr., Gaspar, L. R., Maia Campos, P. M. (2011). Skin moisturizing effects of panthenol-based formulations. J Cosmet Sci, 62(4):361-70. PMID: 21982351.
Cao, C., Xiao, Z., Wu, Y., & Ge, C. (2020). Diet and Skin Aging—From the Perspective of Food Nutrition. Nutrients, 12(3), 870. doi:10.3390/nu12030870