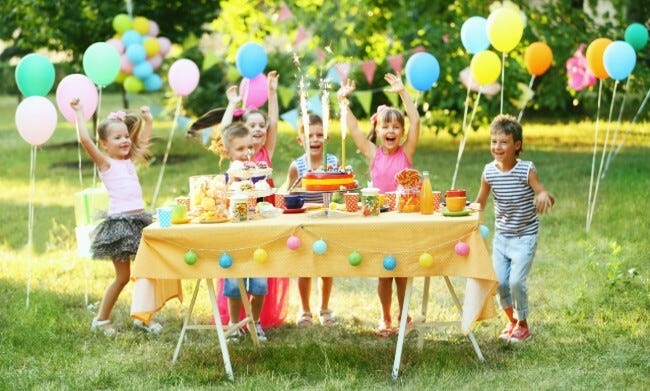 Healthy Party Food For Kids
You could almost create a Venn diagram for kids' party food – you want it to be fun, you hope it gets eaten, but ideally you want it to be nutritious as well. What on earth fits into the middle that covers all bases?
Traditionally, parties have been notorious for low-nutritional value food, however – aside from the obligatory birthday cake – it really doesn't need to be that way. Why is a Frankfurt or frozen reheated sausage roll considered tastier than a bowl of spaghetti bolognaise, fresh baguette or chicken and salad? We have somehow given these traditional party foods a social status much greater than they deserve.
Let's help change this mindset and give kids credit for having taste buds and palates that can enjoy delicious, wholesome food. Here are some tips to help you create an appetising party spread that goes beyond sugar and processed foods:
Fun with food
It's pretty much a given that kids love – and expect - lollies, chocolate and cake. However, try them with some of my more nourishing suggestions for fun party food:
Homemade chicken nuggets – crumb some chicken chunks and oven bake them.

Stir fry - beef vegetables and noodles, served with chopsticks.

Homemade pizza - kids love to bang out the dough and decorate with an array of toppings.

Jacket potatoes with a selection of fillings, so kids can build their own.

Sushi, rice paper rolls or poke bowls – set out an array of ingredients and kids can have fun constructing their own food.

Barbeque - corn cobs, mushrooms, kebabs, hamburgers, lean sausages with salad and wholegrain rolls or wraps.

Why not make it special for the birthday child by serving their favourite food? If it's a bowl of spaghetti bolognaise, some sushi or roasts chicken, that's something healthy, delicious and personal for them to share with friends.
Snacks
You don't need to surround the party with bowls of lollies and processed foods. Put the potato chips away and fill bowls with a selection of:
Plain popcorn

Colourful vegetable sticks

Fruit platters

Dips like hummus or tzatziki
Drinks
Think water's too boring? Offer it with a twist – fill jugs with floating fruit (such as orange slices or berries) and ice cubes or infuse with cucumber for a really refreshing beverage. Other options could be soda water, smoothies or fruit milkshakes.
Goodie bags
Take-home goodie bags don't need to be filled with lollies. They could include a fun pen, pencil, collectors' cards and one serve of confectionary or maybe a slice of the birthday cake.
You are not being a party pooper by providing nourishing food choices. Include some traditional party favourites if you desire, but do consider providing other healthy options. Let's give kids choices to help them find a healthy balance and learn to develop tastes for a range of foods. Your guests – and their parents - will be thankful for it!