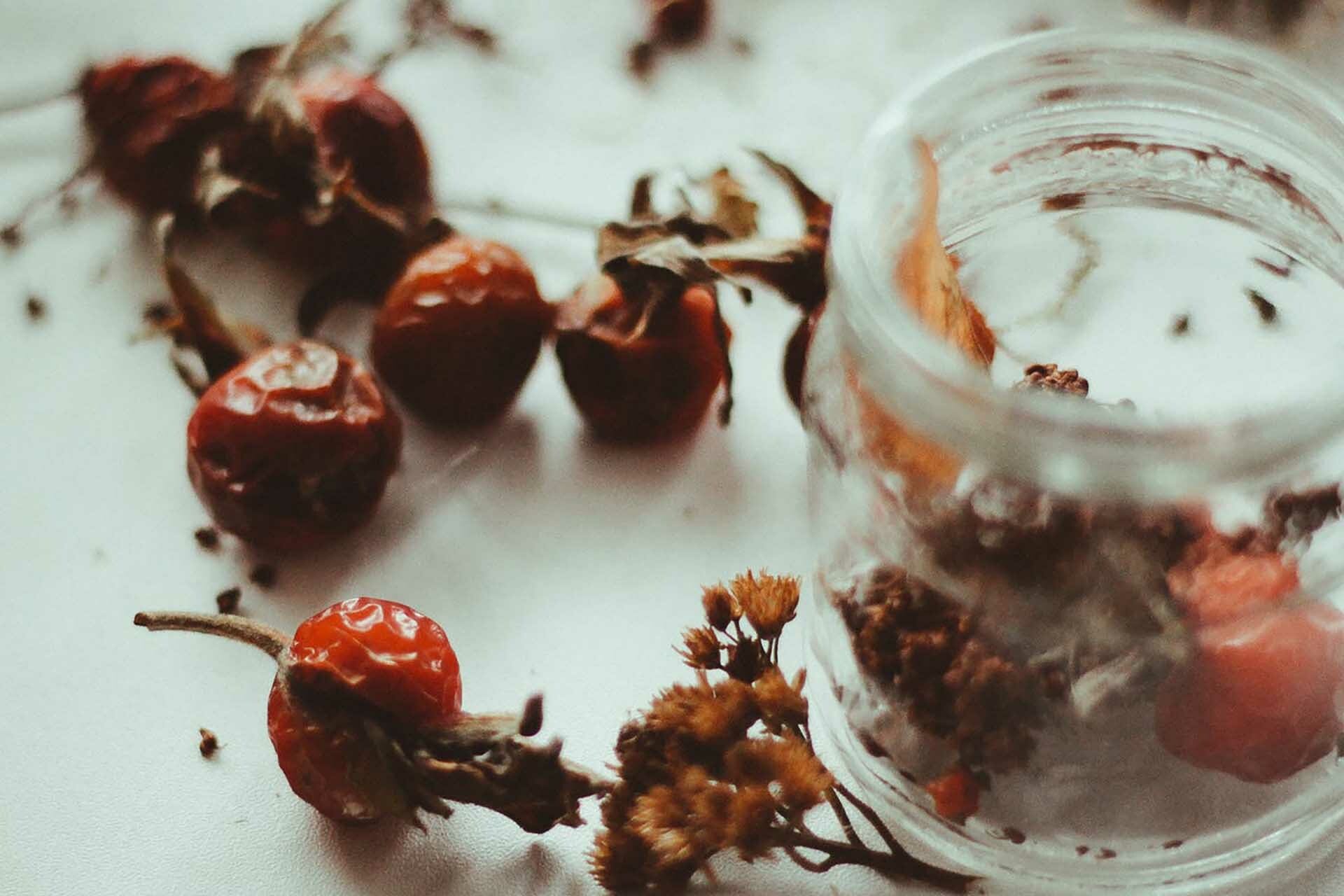 Five Surprising Benefits Of Rosehip Oil
Rosehip is a powerhouse ingredient and has been a favourite in skincare for thousands of years for good reason. From hydrating to protecting your skin, we've delved into the benefits of rosehip oil and how you can use it in your own skincare routine.
1. WHAT IS ROSEHIP OIL?
Also known as rosehip seed oil, rosehip oil is derived from the rosa canina rose bush. Many people wonder 'what's the difference between rose oil and rosehip oil?' and the answer lies in how this plant is used. While the rose oil is extracted from the rose petals, rosehip oil is harvested from the fruit and seeds.
Rosehip oil is known to be packed with skin-nourishing vitamins, antioxidants and essential fatty acids that can help give you that gorgeous nourished skin glow! It has also been prized for its antioxidant properties since ancient times, thanks to its phenolic compounds. As well as using it on its own, rosehip oil is also commonly used as a carrier ingredient and mixed with other oils that are too harsh to apply to the skin.
2. WHAT ARE THE BENEFITS OF ROSEHIP OIL?
The better question would be — what can't rosehip oil do? Its benefits actually go beyond just being great for your complexion, as it can be used on other parts of the body, too. Here are some of the benefits of rosehip oil.
3. ROSEHIP OIL FOR HAIR
If your locks are in need of a serious moisture boost after the warmer months, rosehip oil will be your new best friend! Rosehip oil is rich in healthy fatty acids like linoleic and oleic acids as well as vitamin C, which can help make the hair strong, hydrated and looking healthy again.
4. ROSEHIP OIL FOR MOISTURISING THE SKIN
There's no shortage of great moisturisers, serums and scrubs on the market that promise you soft and supple skin. But, rosehip has its own unique power, and that's how quickly it absorbs into the skin. Not only can this give you that 'just-had-a-facial' dewy glow, but it can also help improve the appearance of wrinkles. Rosehip oil can also be used to drench the entire body in moisture (not just your face!), making it a great addition to your self-care, pampering routine.
5. ANTIOXIDANT PROPERTIES
The mighty antioxidants found in rosehip oil help protect the skin from free radical damage caused by environmental triggers. This helps prevent the signs of premature ageing like wrinkles at bay, to maintain a youthful-looking complexion.
WHEN TO USE ROSEHIP OIL IN YOUR SKINCARE ROUTINE?
The beauty of rosehip oil is how accessible and versatile it is. Whether your biggest skincare concern is ageing, or dehydrated skin, anyone can use this gentle-yet-effective skincare ingredient. It's naturally derived, and you only need a couple of drops daily for it to work. As it's not overly heavy or strong, you could use it as part of your morning or evening skincare routine — or both — and reap major benefits!
HOW CAN YOU USE ROSEHIP OIL?
Ready to make your life (and skin!) a little rosier? Adding this skincare superstar to your daily routine is easy, thanks to the Swisse skincare rosehip range.
If you're looking to maximise the benefits of rosehip oil, our Swisse Skincare Rose Hip Facial Oil is a great choice. This lightweight, non-greasy formula is enriched with a nourishing blend of rosehip and essential oils. By simply massaging 2-3 drops into the skin daily, you can improve skin hydration, protect the skin's moisture barrier and provides a rich source of antioxidants for a healthy complexion. Talk about multitasking!
Want a no-fuss way of introducing rosehip oil into your regime? Check out Swisse Skincare Rose Hip Nourishing Cream Moisturiser. It can be used in place of your regular moisturiser to help take your skin game to the next level. It's enriched with certified organic rose hip oil to help replenish the skin's moisture, plus grape seed oil which is a proven source of powerful antioxidants for healthy-looking skin.
References:
https://www.healthline.com/health/beauty-skin-care/rosehip-oil-for-face
https://www.healthline.com/health/rosehip-oil-benefits
https://www.healthline.com/health/rosehip-oil-for-hair
https://www.medicalnewstoday.com/articles/326931#uses